Jake Gyllenhaal Goes Public With New Girlfriend Alyssa Miller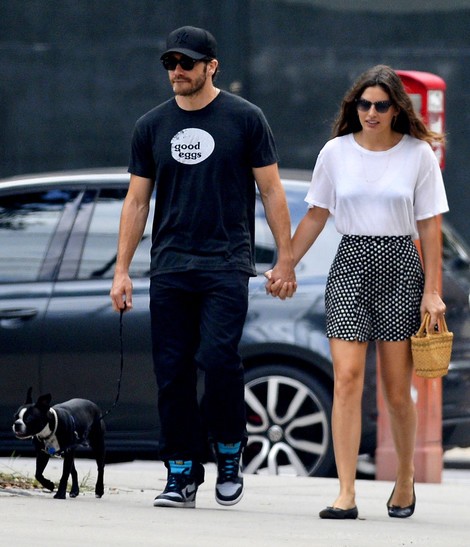 We spotted Jake Gyllenhaal and his new girlfriend Alyssa Miller taking their dog for a walk in New York City on Monday. The actor's mom, Noami Foner, accompanied them.
Gyllenhaal wore a black t-shirt with the phrase "Good Eggs" on it. Perhaps that's the food marketplace in San Francisco? Miller wore high-waisted polka dotted pants and a white blouse.
The 32 year-old actor, who has previously dated Taylor Swift and Reese Witherspoon, was first linked to the Sports Illustrated swimsuit model at the end of June.
A source caught them "making out" during a lunch date in NYC, according to Us Weekly. Reports suggest the couple met at the gym.
Gyllenhaal stars in the upcoming film "Enemy" about a man who searches for his exact look-alike after seeing him in a movie. He also stars in "Prisoners," which centers on a man who kidnaps someone he suspects is behind the disappearance of his 6-year-old daughter and her best friend.