Jaime Foxx Owes Career Success To Tom Cruise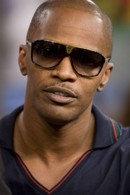 Actor Jamie Foxx credits Tom Cruise with putting him on the path to superstardom after using his influence in Hollywood to help drum up support for the comedian's Oscar-winning movie Ray.

The funnyman first met Cruise when he was touted for a role in 1996 film Jerry Maguire, a part which eventually went to Cuba Gooding Jr. - and won him an Oscar.

Foxx made such an impression on the Mission: Impossible star, Cruise remembered his pal eight years later when studio bosses were casting for Collateral and he put his name forward for the job.

The supporting role in the crime 2004 thriller earned Foxx critical acclaim, including Oscar, BAFTA and Golden Globe nominations, and generated a big buzz for Ray, a biopic about blind musician Ray Charles, which was released almost three months later.

Foxx now admits the timing of Ray's release and its subsequent success was all down to Cruise.

He says, "I don't see him for years and then Collateral came up and everyone was searching for this person to be next to Tom Cruise. He remembered this personality test that I did and we ended up working together.

"And in actuality, he changed the projection of my career because he allowed Collateral to come out first, and then let Ray Charles come out, so there would be heat (interest) for Ray Charles. 'Cause if Ray Charles had come out before Collateral, I wouldn't have had that look (buzz), so I always take my hat off (to Cruise)."