Jaheim Maintains The Upmost Consistency On His Sixth Studio Effort 'Appreciation Day'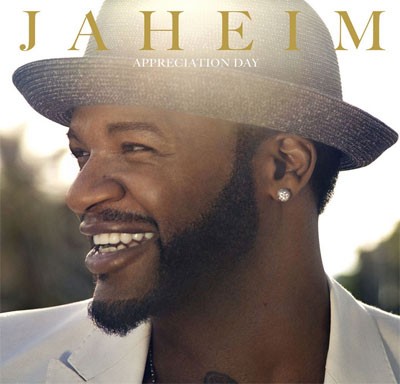 Face it, R&B has seen it's brighter days. It's been cooling off considerably for years and 2013 marks some of the lowest commercial numbers for one of my personal favorite genres of music.  Just sad. I suppose it was a few years ago I finally came to the realization that neo-soul was dead, even if I held out hope for a resurgence.  Or maybe it was when Alicia Keys' As I Am was less retro than the Diary of Alicia Keys. I dunno. Anyways, Jaheim, one of those more 'soulful artists' who straddled contemporary R&B and neo-soul, finds himself fully immersed in the post neo-soul world, but still manages to remain soulful on his sixth studio album, Appreciation Day.  It's not an innovative affair, but in a time where so many R&B artists have went electro or pop (or independent), Jaheim stays true to his roots and ultimately benefits from doing so.
The fine promo single "Age Ain't A Factor" initiates Appreciation Day, sounding quite 'Jaheim-like'.  Soulful, yet characterized by Jaheim's 'hip-hop' rhythmic lyrics, the pieces all fit together satisfactorily.  The most memorable lyrical moment? "The young one that I got, I'm bout to leave her / cause berries sittin' on the vine, with time a sweeter / if I can be your man, girl, you won't want for nothin' / you look better the older you get – Benjamin Button." How often you hear Benjamin Button referenced in a song, particularly an R&B song? Exactly!
"He Don't Exist" gives Jaheim a worthwhile adult contemporary R&B ballad that is lush and well sung.  The backing vocals further accentuate Ja's soulful, smooth lead.  If there is a quibble, it might be the fast-paced lyrics are, well, too fast paced.  But then again, the chorus tickles my fancy: "I think you need the invisible man / so you can never see his flaws and mistakes…" "Morning" brilliantly (if obviously) samples Shirley Murdock's "As We Lay", providing a perfect soulful backdrop for Jaheim to paint with his nuanced vocals.  Throw in those pure, urban sounding supporting vocals, and Ja is on autopilot.  "Do you look fresh, airbrush, magazine? / I'm trin to see if you pretty on me / girl can you keep me callin' / coming back for just another, another…" Seems like sound inspiration for any lady… course that's from a man's perspective.
"What She Really Needs" is in six eight, hearkening back to classic soul, but still embracing the trendy adult contemporary R&B.  As always, Jaheim sounds superb, even if the solid, sophisticated cut isn't his most memorable or best necessarily.  "P**** Appreciation Day" is definitely an eye-catcher – at least when you scan the track list and read the title.  As a song itself, it features incredibly nuanced and personality-laden vocals from Jaheim, but thematically, it's incredibly hard to get past the oversexed ode. I mean, homeboy does everything but say what he's appreciating… Sure, many men feel where Ja is coming from, but it is a bit overindulgent, particularly the "Krispy Kreme glazed in it…" lyric.  SMH!
If "P**** Appreciation Day" was too much, the refined "Baby X3" more than atones, delivering signature, lover-man Jaheim at his best.  "Baby, baby, baby I'll do right by you / baby I'll do right by you / Baby baby tell me what I have to do / baby I'll do right by you…", he sings in ultra-gentlemanlike fashion on the refrain.  "Shower Scene" and "Sexting" go more overt, but aren't deal breakers in the least because of the focus on the sensual. "Shower Scene" reminds me of what the late, great Teddy Pendergrass may have sounded like in 2013 ("Turn Off The Lights" was risqué back in 1979).  "Sexting" is actually more 'tasteful' than expected, certainly more so than the music of Ja's past.  "Sexting" may be most notable because of its dusty drum programming and that rhythmic bass/guitar line.  It's one of the more creative production jobs of the effort.
Again atoning for getting too 'riled up', Jaheim throws in a big adult contemporary R&B ballad, this time via "I Found You".  On "I Found You", Jaheim still very much comes off as an old soul, but sort of like "Hush" (from 2007 effort  Makings of A Man), the sound is much more contemporary than we're accustomed to. Does it work? By all means.  "Florida" stands out amongst the best, if not the track to beat.  It eschews physical love in favor of referencing the issues in Florida given the famous (or infamous) Trayvon Martin incident/case.  Jaheim's runs are incredibly impassioned, rivaling Ron Isley's signature cues; his investment into this deep cut is obvious.  Emotionally-driven over a six-eight groove propelled by a g-minor piano progression, "Florida" is easily among 2013's most beautiful R&B numbers.
"Sticks and Stones" proceeds in relaxed tempo with lush production work.  Solid as anything else, "Sticks and Stones" doesn't supersede "Florida".  "First Time" follows with more of driven, soulful groove than "Sticks and Stones".  Something of an updated soul cut or 'neo-soul' via 2013, Ja performs it well.  After all, he wants you to "remember [him] like [he's] your first". Penultimate cut "Blame Me" samples Frank Sinatra's "It Was A Very Good Year", which gives the cut a nice subtle, chilled out sound.  The restrained palette leaves plenty of room for Ja's warm, nuanced pipes to shine.  "Chase Forever" closes the set decently, but doesn't bring anything new to the table.
Overall, Appreciation Day is yet another consistent, well conceived Jaheim album.  It doesn't really change the formula (save for "Florida"), but for Jaheim's most dedicated fans, this should be a pro. Could Jaheim shake up the formula more? Maybe, maybe not.  He can be just as effective without the more 'ghetto' stylings of his past, but also a few tweaks here and there wouldn't hurt.  Still, it's a quality R&B album and maybe most importantly is that it is a true R&B album in itself.
 Favorites: "Age Ain't A Factor"; "Morning"; "Baby X3"; "Sexting"; "Florida"  
Verdict: ✰✰✰½Related articles
Jaheim | Appreciation Day | Atlantic | US Release Date: September 3, 2013