Jael de Pardo Returns For 'Haunted Highway' Season 2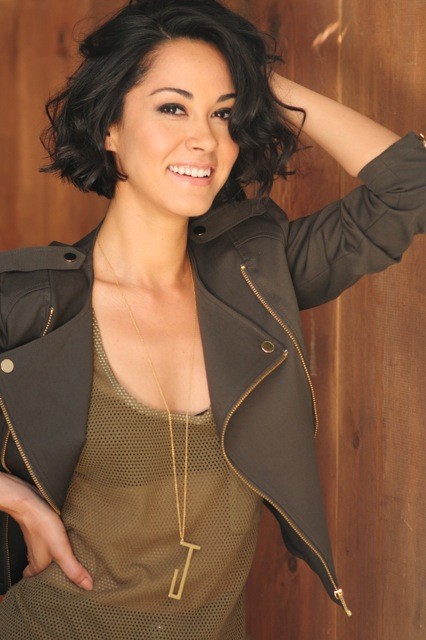 SyFy's paranormal investigation show Haunted Highway is back for another season of probing the country's mysteries and legends. BFTV recently caught up with Jael de Pardo, one of Haunted Highway's four investigators, to ask her about Season 2 and what has continually attracted her to the SyFy Channel and exploring the unknown.
Her introduction to the business wasn't that uncommon. "I grew up around the arts. I love the arts in all different kinds of forms whether it's an art exhibition or performance art or a Broadway play," she said. "It's something that's [been] part of me since I was a child. It's something I appreciate and still do appreciate."
But simply being on TV and embarking on the kinds of adventures she does are two different things. Jael has a longstanding relationship with SyFy, and with this genre of TV; she first appeared on Destination Truth and then Fact or Faked: Paranormal Files before joining the Haunted Highway team. So what keeps her coming back? Is it the network, the topic, or both?
"I do love science fiction. I always have," she told us. "I came into this as an experienced producer and TV host from a channel called CurrentTV. I had done a lot of producing and hosting for pieces far and wide. When SyFy saw me, they realized that I had sort of the gumption to go out there and go to these places a lot of people feel uncomfortable in."
Does the courage that comes from these adventures spill over into her everyday life? "Absolutely. I think from the beginning it definitely takes a certain type of person that will willingly go out there and do these things," Jael said. "But I will admit that in the beginning I was more afraid than I am now.
"You kind of grow a tough skin. You get used to those situations and those environments a bit more and you feel a bit more prepared because I've experienced it. I love the adventure aspect of my life."
That includes working around the world, whether it's shooting in her hometown of New York City, traveling to her birth country of Colombia, or SCUBA diving with sharks in the Bermuda Triangle. She also studied at the prestigious Fashion Institute of Technology, and under various acting coaches. She's not just a TV host; she's also a producer, writer, actress, and former model.
With all the places she's visited and things she's done over her career, can Jael possibly pick out her proudest accomplishment? "You know, I don't know that I have one specific moment," she said. "I would say that overall the broad scope of my career is something that I'm proud of, just because I've tackled lots of different sides of production. I would say I'm proud of being able to carry that through."
"I think I would really like to go to India. I haven't been to India yet," she added. "And I'd like to see New Zealand."
Is there anything that she won't do? "This is something that is interesting," Jael confessed. "On these shoots, a lot of times we're put in these countries and there's different types of cuisine. I've always told my producers, you want me to jump out of a plane, I'm game but if you want to put some really strange food in front of me, I have a very hard time with that."
Jael's far-ranging resume and fearlessness are inspirational, so we asked her who she would say inspires her. "There's lots of artists out there that I feel are doing great things," she told us. "I was recently reading an article about Audrey Hepburn. She's such an amazing figure because she led her life with such grace. She was obviously extremely talented, had a lot of success in the film industry. She was also a fashion icon, and she was a humanitarian.
"And going out the way I have, seeing the world, you get to see a lot of things that people aren't aware of. I think that using your creative career as a vehicle to have the freedom to go out there and do that kind of work is commendable."
"This entertainment industry is something that I have been involved in for most of my life," Jael reflected. "I've been developing the performance side of my talent for many, many years. And I'm now after having had some success with three separate series, I'm looking to expand and I'm open to all sorts of possibilities." For her, the sky's the limit.
Haunted Highway continues its new season tonight on SyFy. You can also keep up with Jael by visiting her official website (jaeldepardo.com) and following her on Twitter (@jaeldepardo).
(c)2013 Brittany Frederick. Appears at Starpulse with permission. All rights reserved. No reproduction permitted. Visit my official website and follow me on Twitter at @tvbrittanyf.