Jada Pinkett-Smith Goes Nude For Salma Hayek (Video)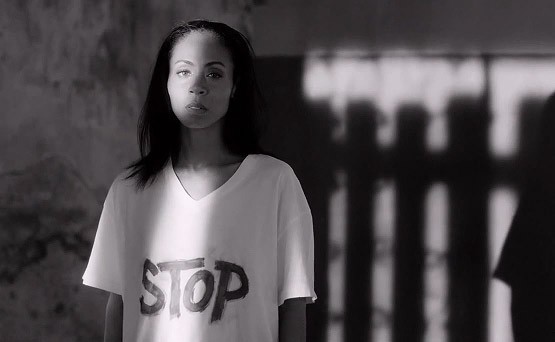 Jada Pinkett-Smith didn't think twice when her friend Salma Hayek called on her and asked her to strip down and film a new music video completely nude, because the video was done to raise awareness of the horrors of human trafficking.

The hard-hitting promo for "Nada Se Compara," performed by Pinkett-Smith's band Wicked Evolution, is part of the Don't Sell Bodies campaign against slavery. The song was released a few months ago and is finally getting some visibility thanks to Jada's recent interview in More magazine.

"I can't tell you how many times I've been asked to take my clothes off, but Salma asked me once, and it's done," the actress tells More. "It's not even a question. That goes to show you how much I trust and adore her."

Jada sings and writhes around naked a room with just a bare mattress, shot in black & white with color scenes of a young girl falling in love with a boy who ultimately sells her into slavery.
"[Salma] said, 'I need you to be courageous! This is the power they try to steal from us - you must show it!' Her passion is just contagious... Every time I'm with her, she has something to offer me."
According to the Don't Sell Bodies YouTube page, there are estimated to be around 40,000 victims of human trafficking in the United States right now.

Watch the chilling video below...