Jack Johnson Donates $30,000 To Africa Famine Relief Crusade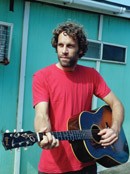 Jack Johnson has donated $30,000 to help feed Africans caught up in the current famine crisis.

The singer/songwriter has pledged $10,000 to UNICEF, Save the Children, and the World Food Program, who are all working tirelessly to boost the relief efforts in the Horn of Africa.

A post on the star's website reads, "In the midst of the current drought and famine in East Africa, Jack Johnson announces his support of (sic) hunger relief efforts in the region. Jack is donating a total of $30,000 to three organizations working hard to provide food, water, medicine and on-the-ground support for millions of people in the drought stricken areas."

"Jack is encouraging his fans to support famine relief efforts in any way they can. According to the World Food Program, it costs only $0.50 to feed a beneficiary in the Horn of Africa for one day."
"All donations will make a difference and every day counts until the rains return in around 100 days."