Jack Johnson Concert Scrapped Due To Storm Winds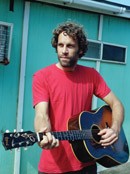 A French festival concert due to feature singer/songwriter Jack Johnson as a headliner has been canceled at the last minute due to strong winds.

The "Better Together" hitmaker was in Provence for the gig, which is part of the ongoing 2011 Les Voix du Gauo in Six Fours les Plages, when he learned that organisers had scrapped the show.

Taking to Twitter on Saturday, the surf-folk star wrote, "We regret to advise that due to the extreme wind conditions which rendered the stage unsafe, the decision was made by the Les Voix du Gauo Festival Director to cancel the show for the safety of the artists' and the audience.

"We always love to play music in new areas and were really looking forward to sharing our music with the people of Six Fours les Plages. We were very disappointed to be so close and then be unable to perform. We hope to return soon to France, a place we love."

The news comes a week after rockers Cheap Trick narrowly escaped serious injury after sudden high winds and rain lashed a festival in Canada, while the group was performing on the main stage.

Much of the band's equipment was destroyed by the storm.