Jack Davenport Takes Center Stage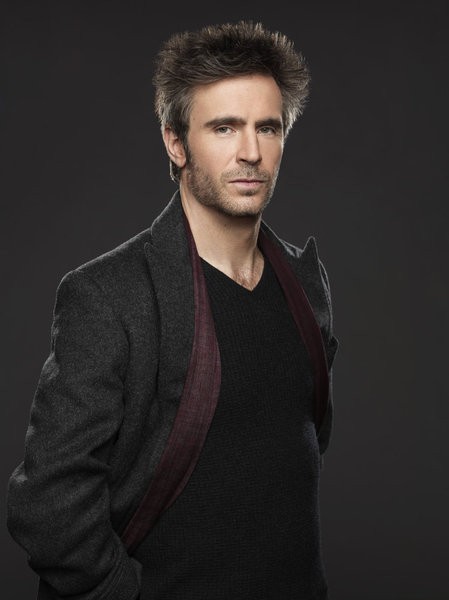 NBC's Smash is full of stars, but the one you don't know - that you should know - is British actor Jack Davenport.
In the ambitious new series (starting February 6 at 10), he plays Derek Wills, director of the Marilyn Monroe musical and not the kind of man who'll be winning a congeniality award anytime soon. Derek is complimentary one minute and cringeworthy the next. He's the kind of boss we'd all hate to have but whose results can't be dismissed either. It's a role where many actors could focus on the negative and make him a tyrannical, unlikeable mess. Davenport, however, brings equal moments of heart to contrast the cold, finding the man in the madman.
It's likely easy for him to do because he's the complete opposite of his alter ego. Davenport is charming but also straightforward, possessed of a wickedly funny sense of humor that manifests itself in perfectly deadpan comments. I'm shocked (flattered, but shocked) that he remembers me after having only met me once two years before, but he does. He's that sharp.
He's comfortable with who he is and unconcerned with if fame ever comes calling or not. As a fan of his for more than a decade, I'd love to see him become a household name, but as we sit down for our interview, I get the sense that he's content right where he is.
And as a fan, I can't help but ask him what he's doing playing this part.
"It's a really good character and it's a really fun character to play," he tells me. "I think he has redeeming qualities. He's quite Machiavellian and manipulative, but directing in that kind of environment requires a bit of that. You might not like his methods, but that's often how they're achieved in that world."
I admit that the role surprised me, because wanting to slap the character wasn't something I've ever felt watching any of his roles before. He looks at me and smiles knowingly.
"I'm thrilled to think that you think I'm playing against type," he says, "but my inner sociopath is only just below the surface."
Truth be told, he got his 'big break' playing another character people wouldn't always embrace. The year was 1996, and Davenport was one of the stars of the BBC series This Life, playing the twentysomething aspiring lawyer Miles Stewart. Miles was callous, sometimes homophobic, often difficult, and in the first season he dated a drug addict. Again, here was another character who could have been reviled. We might not always have liked him, but we were able to understand him, because Davenport gave him depth even in his most insufferable moments.