Jack Davenport Previews Season 2 Of NBC's 'Smash'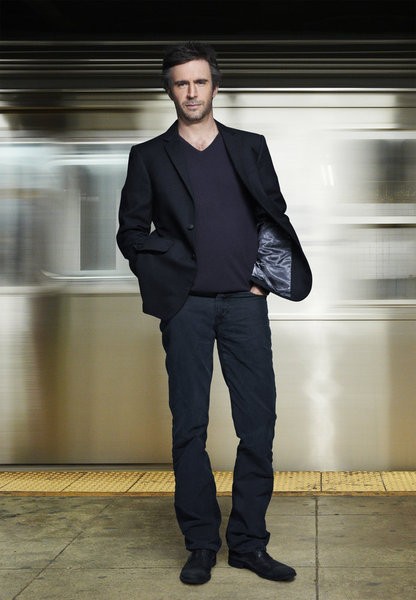 NBC's Smash is back, and the showstopping drama has gotten even bigger, with new faces, new songs, and of course, more big musical numbers. BFTV recently caught up with the fantastic Jack Davenport - who plays the show's most dynamic character, intense director Derek Wills - to get a look at what's going on in season two of Smash.
Fans know that the show underwent a massive overhaul between seasons, with creator Theresa Rebeck departing and handing the reins over to Josh Safran (of Gossip Girl), and numerous characters being both axed and added. It sounded like a big deal at the time, but how much did those changes really impact the actors?
"The short answer is not much, really. We still have to come in and do what we do anyway," Jack explained. "In a broader sense, I suppose, with regime change comes regime change. Josh Safran, our new showrunner, had certain refocusings of how the show is presented in mind when he took the job, and he has been energetically deploying them, and to great effect."
Season one saw Derek as a force of nature both professionally and personally, whether it was fighting with his colleagues or carrying on affairs with leading ladies Ivy Lynn (Megan Hilty) and Rebecca Duvall (guest star Uma Thurman). But Jack revealed that Derek isn't quite so in control in season two. "What's been interesting is, events overtake Derek in such a way that he ends up being vulnerable," he said. Considering that Davenport does vulnerable as well as he does tyrannical, audiences are in for a treat.
What's been rewarding for him? The actor is appreciating the opportunity to flesh out his role that comes with returning for another cycle. "One of the pleasures of doing long-form TV is that characters develop," he continued. "You come into a second year [and] you've established certain things about a character. In the first season, whatever comes down the pipe, you're like, 'Okay.' Who's to say who's right and who's wrong?
"Once you've got a year under your belt, you've got a stronger sense of what he would and would not do. One of the things I've enjoyed about Josh is, he advertised himself as being collaborative and he's been more than as good as his word. We've had a lot of constructive back and forth."
One of the first season's best moments was when Derek finally had it out with Tom Leavitt (Christian Borle) over their difficult past, and they'll have to continue to deal with each other in season two. "Tom and Derek, they have a lot of backstory, and in some ways that allows them to have a rather snippy shorthand with one another. In other ways, it means that they can kind of call the other one out more than other characters," Jack said. "Tom, Derek, Julia and Eileen are the slightly older and more experienced characters. They have a sort of status in some ways. That means that it's harder for them to be called out on something."
Yet that didn't stop him from adding, "Sometimes Derek's behavior is so monstrous that anyone and everyone should call him out on it."
It's not just the other characters that have a love-hate relationship with Derek; that extends to the Smash fans, too, and Jack is fine with that. "That's sort of the job. The character is designed to be slightly polarizing, I think," he said. "I have experienced an enjoyable mixture of being shouted at and being warmly congratulated, and both frankly make me feel like I'm doing something right."
Playing the difficult director has slightly enhanced the actor's view of the job, as well. "I think I knew beforehand, vaguely, how kind of lonely it can be, because I have a lot of friends who are directors, and I've always had a great respect for what they do," he added. "I don't think it's so much changed my view, [but] it may have deepened it."
Hopefully, Smash has also deepened audiences' understanding of what this remarkable actor can do. If you need a refresher, check out our feature article from season one.
Season two of Smash continues tonight in its regular time slot of 10 PM ET/PT.
For more from Brittany Frederick, visit my official website and follow me on Twitter (@tvbrittanyf).
(c)2013 Brittany Frederick. Appears at Starpulse with permission. All rights reserved. No reproduction permitted.