Jack Davenport Features In Tonight's 'The Good Wife'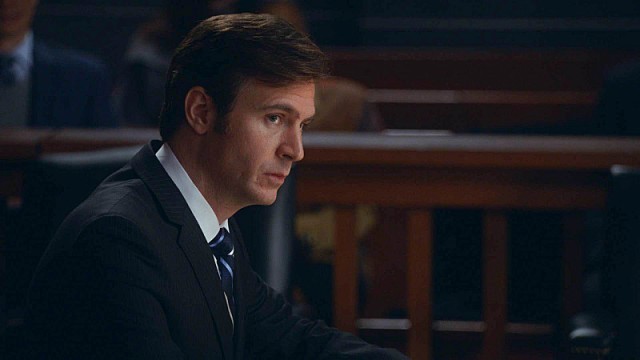 As if The Good Wife isn't brilliant enough, tonight's midseason premiere includes a marvelous bit of casting: a guest appearance from the criminally underrated Jack Davenport.
The former Smash star plays Assistant United States Attorney Frank Asher in the episode, entitled "Parallel Construction, Bitches," which focuses on the drug-related arrest of recurring player Lemond Bishop (Mike Colter). Expect it to be a great supporting turn from the consistently solid British actor, who's quietly established a presence for himself on American television with his starring roles in CBS's Swingtown, ABC's FlashForward and Smash, which departed NBC after two seasons.
Davenport is currently filming the ABC pilot Sea of Fire, alongside Dexter's Jennifer Carpenter (who also guest-starred on The Good Wife), Michael Trucco and Jeffrey Nordling (both from Killer Women).
The remarkably versatile actor's other credits include playing James Norrington in the first three Pirates of the Caribbean films, and in British television, leading parts in the drama This Life, sci-fi thriller Ultraviolet, and comedy Coupling. Last year, he starred in the 1960's-set Breathless for ITV. If you haven't discovered him yet; you're really missing out; you can check out our previous feature interview with him here.
He's the second Smash player to guest-star on The Good Wife this season, following Christian Borle, who played opposing counsel Carter Schmidt in the episodes "A Precious Commodity" and "The Next Week." This may be slightly amusing to some viewers, since the actors' characters on Smash - director Derek Wills and composer Tom Leavitt - were acrimonious collaborators who shared considerable screen time.
Davenport's casting is just one of the upcoming great gets for the award-winning CBS drama in Season 5. Next week, Jill Hennessy of Law & Order and Crossing Jordan fame visits as "power lawyer" Rayna Hecht, and True Blood star Carrie Preston will also return in her recurring role as Elsbeth Tascioni.
Which gives us one last casting tidbit to think about: with True Blood ending after its upcoming seventh season, perhaps The Good Wife should consider upping Preston - who won an Outstanding Guest Actress Emmy for her work here - to a series regular. Imagine how fantastic it would be, especially if excuses could be found to put Elsbeth in plenty of scenes with Alan Cumming's pitch-perfect Eli Gold.
The Good Wife returns to CBS tonight at 9 PM ET/PT.
(c)2014 Brittany Frederick. Appears at Starpulse with permission. All rights reserved. No reproduction permitted. Visit my official website and follow me on Twitter at @tvbrittanyf.