Jack Black Reigns Over Special Teen Prom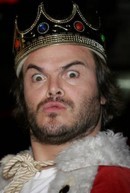 Comedian Jack Black has given a group of sick teens something to smile about after attending a special prom for kidney disease sufferers in California.

The School of Rock star delighted more than 400 youngsters on Sunday as he dressed up as a king for his appearance at the 13th annual Renal Teen Prom at the Notre Dame High School in Sherman Oaks.

He took to the stage to belt out a number of songs with Glee pianist Brad Ellis and spent the rest of the night mingling with guests and posing for photos with dialysis patients.

The Renal Teen Prom, organized by the Renal Support Network, is aimed at giving patients from across the U.S. the chance to enjoy themselves as they spend much of their time undergoing dialysis treatment.