Jack Bauer Returns In '24: Live Another Day'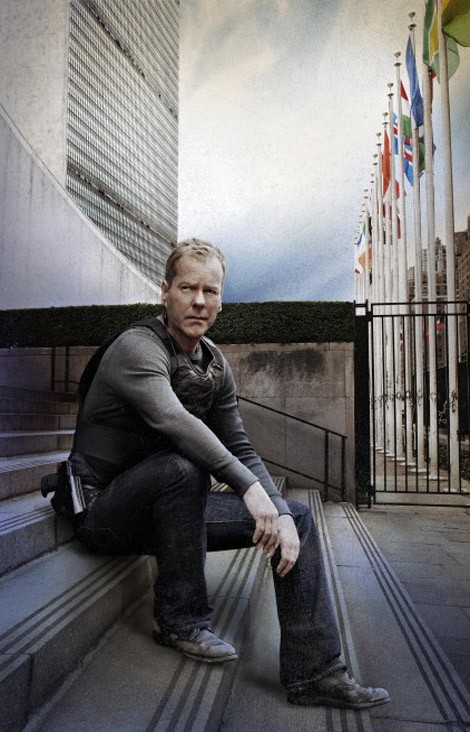 Jack Bauer is returning to television after a few years off.
Today FOX revealed details for the limited series 24: Live Another Day, which will follow Kiefer Sutherland's Jack Bauer as he deals with another tense 24 hours.
Also returning to the series are Mary Lynn Rajskub (Chloe), Kim Raver (Audrey) and William Devane (James Heller).  Additions to the cast include Chuck star Yvonne Strahovski, Gbenga Akinnagbe, and Judy Davis.
The series was revealed during the Television Critics Association press tour. Despite the recent reveal, the show will premiere this year on May 5th with a two-hour episode as part of a twelve-episode season. The producers explained the show will still take part over 24 hours and each episode will take place over the course of one hour. However, due to the shorter season, producers will be skipping hours in-between episodes.
It had been reported 24 would be adapted into a film following the end of its run on TV, and Kiefer says that possibility hasn't been ruled out with this announcement. "The script for the film is very, very different. The film is an ongoing thing – there's still an opportunity to do it," he said during the presser.
He continued, "Howard came up with the idea [for this season] – a fantastic idea and something we're really excited about doing. If this ended up rebooting the show or causing a film to be made, so be it, but right now, we're really, really excited about doing these episodes."
Executive producer Manny Coto revealed Yvonne's character, explaining, "We pick up four years later and Jack is still a fugitive. He has disappeared and he is still hunted. Yvonne Strahovski is a CIA agent who has been on the hunt for Jack Bauer."
24: Live Another Day will begin taping in London soon.