Ja Rule Begins Prison Sentence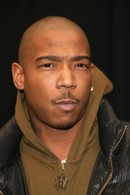 Rapper Ja Rule has begun his two-year prison sentence.

The "Always On Time" hitmaker, real name Jeffrey Atkins, was convicted on weapons possession charges, stemming from a 2007 arrest in New York where a semi-automatic gun hidden in the rear driver's side door of the vehicle he was riding in was found when he was pulled over for speeding, having a suspended registration and no insurance. 
He was sentenced in March.
He spent his last day as a free man at the movies with his family before hitting the studio to put the finishing touches to his upcoming album "Pain is Love 2 (PIL2)."

He turned himself in to authorities in the Big Apple on Wednesday, when he was processed and escorted to a local prison.

According to TMZ.com, Ja Rule bid farewell to his friends and family by saying, "Real life is a fantasy, f**k fame... I'm ready for this to get over with. I am focused."