J-Woww Drops 20 Pounds & Shows Off Her New Bikini Body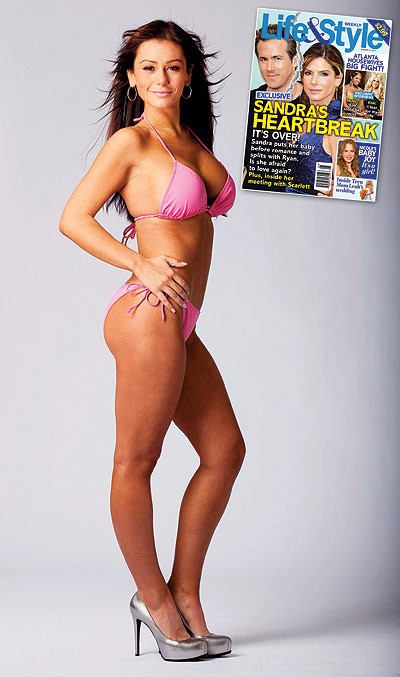 Watching Jersey Shore's third season, you've probably noticed that you're seeing a whole lot less of Jenni 'J-Woww' Farley - literally. The Jersey Shore star sat down with Life & Style to share how she cleaned up her act, lost 20 pounds, and two dress sizes in the past seven months. She attributes part of her success to Ab Cuts supplements. "I can fit into the jeans I wore when I was 21!" the 5-foot-7 star, now 25, told Life & Style at the exclusive photo shoot. "Overall, my body's gotten tighter and more toned."

Her new look, Jenni says, "Is me coming out of my shell. I want to go back to where I was until I was 21. I was running 3½ miles a day, and I looked amazing. I was very, very health-conscious. And I'd never had a drink."

This season, J-Woww started hitting the gym with the guys and scaled back her partying, limiting herself to lower-cal cocktails like "vodka-seltzer, no cranberry, nothing fruity," she says to Life & Style. "I drank things that wouldn't induce a hangover so I could stick with the gym. It was hard, but it was worth it." Since filming of the third season ended in September, she has cut alcohol altogether. "I want to be on point, and drinking gets in the way," she says.

Another factor in J-Woww's weight loss is her new beau, Roger Matthews, a Toms River, N.J., bodybuilder. Jenni tells Life & Style that since the two first got cozy in August, Roger has been training her for at least two of her five weekly workouts. Talk about great motivation!


For more on JWoww's transformation, pickup the new issue of Life & Style Weekly, on newsstands now!
Click for more great J-Woww pictures: