Izabella Miko Portrays 'Personification Of Anorexia' In Lifetime's 'Thinspiration'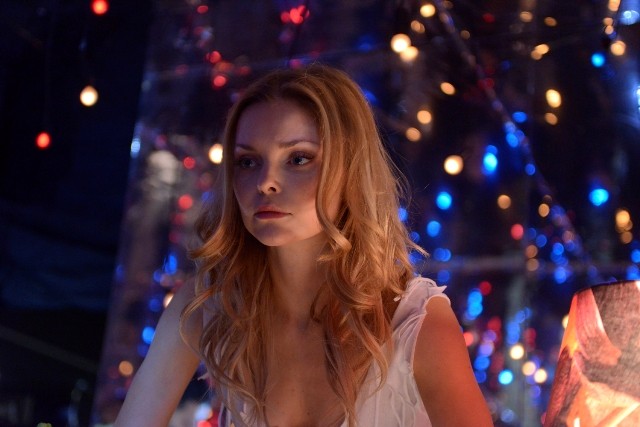 It's not an easy job, but somebody's got to do it. In Lifetime's new original movie Thinspiration, it's up to Izabella Miko to play ButterflyAna, the founder of the online community that leads Hannah (Laura Slade Wiggins) into anorexia. It's an antagonistic role for an actress who couldn't be farther from an antagonist in real life. BFTV recently spoke with Izabella about what it was like to step into an unlikable role, and the causes that she's passionate about off-camera.
"I feel like I sort of play the voice that we all kind of have in our heads, that negative voice that holds us back from doing things," she explained. "We all sort of have it and of course that voice, when it gets to the point that it gets in the film, it's completely self=destructive. But we're all familiar with that voice. We all kind of put ourselves down, unfortunately, because we live in a society that tells us we're not good enough, we're not pretty enough, we don't have enough things. I just had to really focus on what is it every day that I struggle with?"
"It was a very difficult, difficult shoot because it's so negative," she said of her character. "I had to really see it for what it is and not let it sink into my brain too much. But again, you're looking at it and you see that this is what we do to a certain degree. This is very much exaggerated and I'm sort of playing the personification of anorexia."
Izabella's role meant working closely with Laura, for whom she had tremendous praise. "Laura's amazing," she enthused. "We just had such an intimate relationship, when you work with someone doing a part where I am whispering in her ear, so I'm sort of being this demon that's taking over her. She has to be very vulnerable with me. So that creates a special bond. Most of my scenes, if not all of them actually, were with her. And then we'd be like 'Let's go have a donut.'"
While no one's going to be falling over her character, there's a lot to praise about Izabella's performance, which is so good that it's actually uncomfortable when she's on the screen. It's her goal that her portrayal provokes discussion about some very real issues. "I hope people pay attention to that negative voice," she told us. "If we talk about it and see that this is what people are struggling with right now, because of what's being served all over town.
"You're looking at billboards and articles and it's beauty and perfection. I hope that people pay attention, because there's help out there. You can get help. It's about awareness. Because you can tell if someone is starting to go down that path, whether it's an eating disorder, an addiction, or alcoholism."
She's doing her own part to make the world a better place, focusing her efforts on environmental causes. "I have a foundation called EkoMiko. It teaches people about green living and sustainability," said Izabella, who has a videoblog on the website (ekomiko.com). "I have episodes where I show you something green, talk with celebrities, do like little cute films to teach you how you can be green. I created a candle line to support the foundation. And I'm vegan, so that's one of the biggest things you can do to be green."
Her next acting role is much more positive: you can see her in the upcoming dance film Make Your Move, alongside Dancing With The Stars pro Derek Hough and Asian pop star BoA. "It's a very sweet and loving and fun film," she said. "I get to dance a little bit, [and] I get to do trapeze; I'm a trapeze artist as well. It's just one of those feel-good movies. You walk out and you just want to dance and follow your passions." She also stars in Step Up 5: All In, which is set to arrive in July.
So while Izabella's portrayal of Ana will have your skin crawling this weekend, know that she's playing bad for a very good cause. And if somebody's got to do it, this compassionate, kind and proactive actress is a fantastic choice.
Thinspiration, aka Starving In Suburbia, airs this Saturday, April 26 at 8 PM ET/PT on Lifetime (check your local listings for specific channel). For more on Izabella, you can visit her official website (izabellamiko.com) and follow her on Twitter (@izabellamiko).
(c)2014 Brittany Frederick. Appears at Starpulse with permission. All rights reserved. No reproduction permitted. Visit my official website and follow me on Twitter at @tvbrittanyf.