Iyaz Talks About His Career, Passion For Music & Upcoming Plans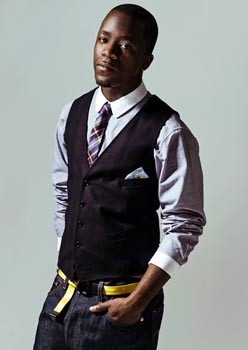 What would you do if a hit recording artist liked your music and sent you messages on Myspace? If you're anything like Iyaz, you'd probably think they were fake, delete them, and move on. In this case, the messages were being sent from Sean Kingston - and they were real. That's when Iyaz's life took a new turn. Starpulse talked with Iyaz about his career, his passion for music and his upcoming plans – and how those messages changed everything.
"Sean Kingston kept hitting me up on Myspace. I was deleting his messages, thinking it was a joke." Iyaz even gave him a fake phone number. But it was really Kingston, and "he flew me out to Fort Lauderdale," says Iyaz – and they've been close friends ever since. Kingston recommended him to the famous producer JR Rotem, who saw the talent right away: "Iyaz is a storyteller who paints visual scenarios that tug at the readers heart-strings."
Growing up in the British Virgin Islands, Iyaz was surrounded by a musical family: "My mom was a choir director, and my little and big sister both sing. I've been interested in this since I was young", he says, expressing his gratitude for their positive musical influence on his life. His hit single "Island Girls" was recorded in his apartment on his laptop with cheap headphones he'd bought at Walmart, and it was the track that got Kingston's attention. Iyaz approaches songwriting "not from the view of 'oh, I'm going to make a hit today'", but for the love of making music itself.
With his debut album about to be released, Iyaz now balances work with travel, spending a lot of time in hotels and on the road. He's excited with where his career is going, and proud of the new album: "Music is what helps people cope. A lot of my songs deal with love, or what I'm feeling at that point in time." More importantly, he uses his rising star status for good, having recently participated in the "We are The World" benefit for Haiti – "I was honored to lend my voice to that cause." Iyaz also sets a refreshingly good example for singers and songwriters: "I don't swear in my lyrics. I just think it's a sign of a weak vocabulary. There's always a better word for what you want to say then just resorting to cursing."
With his time off, Iyaz says he tries to catch up on his sleep – "it's something I barely get to do anymore!" he laughs. He'll be appearing on talk shows, including Oprah, an upcoming episode of Hannah Montana alongside Miley Cyrus, collaborating with Chris Brown and preparing for a tour.
How does he manage to balance everything when he's so busy? "If you want to be successful, you have to [work this hard]. The main thing I've learned in this industry is that not everything that glitters is gold. You have to be on your toes, because nobody is going to work as hard for you as you will for yourself."
Interview/Story by Melissa Liznick
Starpulse contributing writer