It's the Summertime Season for The Zombies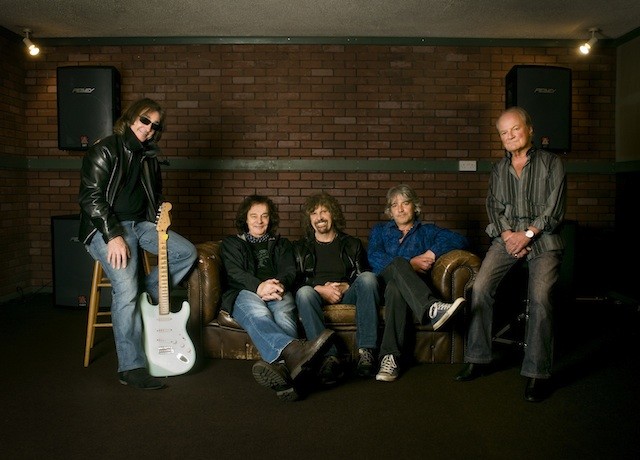 It's the summer concert season and the timeless classic British band, The Zombies are hitting the road and coming to a venue near you for their 2014 American tour.
One of the stops along their journey will be The Paramount in Peekskill, NY on August 15.
Lead vocalist, Colin Blunstone spoke exclusively to Starpulse about the upcoming tour and other happenings with the band.
"We love coming to the states and playing and this will be our second trip this year—and it's wonderful playing over there it's just a great audience; we played in and around New York many times. When I arrive at a venue I'll recognize it if we played there before but I'm not really good at remembering the names! We never played the Paramount before," he proclaims in a telephone interview. He discusses new material in the works. "We're always writing and recording and we recorded two brand new songs for a new album and we rehearsed two other songs so we're in the process of recording five new songs and whether we play any of them in our set I'm not sure, it's a bit undecided at the moment." He adds, "We'll try to put some songs in that we haven't played recently so hopefully there will be some songs in there that people haven't heard for some time."
This past April and in March 2013, The Zombies were an integral part of The Moody Blues Cruise. They were back twice by popular demand and fans were just raving about their stellar performance!
"The experience was absolutely brilliant! To think that we get paid to go on a Caribbean cruise and play with all these wonderful bands; like The Moody Blues, The Strawbs and on this last cruise Roger Daltrey was on there it was just a wonderful experience and we really enjoyed it!" raves Blunstone. "There is a camaraderie in a situation like that; everybody is on one boat together and it's the same with the audience really—you're traveling with your audience and it's a unique experience and you get to know the audience quite well!"
The Zombies play regularly and record every chance they get.
"We're always writing and we're currently recording new material and hopefully by the end of this year we will finish the album and next year we'll be touring and playing tracks from that album. Originally, this year was supposed to be light in terms of concerts but it hasn't turned out that way; we've been playing constantly. We did a long tour with the Animals and The Yardbirds in the UK then we did the cruise and after that we had five weeks on the road in the states. Then I did a couple of weeks in the states with my solo band called 'The Colin Blunstone Band' and I came back and did more work with my band and at the same time we're recording so we're probably busier now than we've ever been."
With his solo band, Colin tours with them whenever The Zombies are off the road.
"Usually twice a year I play with my own solo band but it depends how often The Zombies are working when there are obvious gaps." "We played venues in the UK and in Europe; sadly I never had any hit records as a solo artist in America but I've had a lot of hit records in the UK and in Europe as a solo artist so it opens up a lot of doors that probably aren't open in America but it's nice to come over for a change and play with the solo band in the states. The reason I call it a 'band' because I don't want people to think that I am just arriving with me and a guitar—it's better to try to explain to them that this is a 'band' and we're going to play hard rocking music as well as introverted romantic songs. It's better because it prepares an audience for what we are."
Colin says that The Zombies most popular song is 'Time of the Season.' Their other hits include, 'Tell Her No' and 'She's Not There.'
"They're all received very well, certainly in terms of sales and airplay it's definitely "Time of The Season" is the biggest hit. It's quite surprising because we played a little segment from our last album, 'Odyssey Oracle' and all those tracks get a really wonderful reaction!" He notes. "We've all been involved in other projects, Rod Argent and our bass player, Jim Rockford were both members of Argent so we play their hits, "Hold Your Head Up" and "God Gave Rock and Roll To You" which certainly was a hit in Europe but they wrote it and it was late recorded and covered by KISS but Argent originally wrote it and recorded it—we play a couple of tracks by The Alan Parsons Project ("Old and Wise") because I recorded with them for many years; and through the show there are lots of songs that people will remember and perhaps they don't realize that there's a connection to The Zombies; this is the interesting thing I think and that between us we've been associated with many hit songs we like to play new songs and obscure tracks as well that never got the attention they deserved when they first came out. It's quite a varied mixture that goes to make up the whole show."
Colin's musical influences are Sting, Stevie Wonder, Joni Mitchell, and Jackson Browne.
"They're the kind of artists I really respect and love listening to and sure it would be great to share the stage with them!" he admits.
Blunstone explained that original member, Rod Argent who composed many of The Zombies hits rarely writes the songs from personal experiences but he does.
"I nearly always write from personal experience when I write lyrics. I will be playing one of my songs called, 'Any Other Way' which was on our last album," he states. "What's interesting is 'Time of the Season' was written by Rod Argent, but when Argent his next band started Rod Argent and Chris White from The Zombies co-produced Argent and he was a silent member of Argent. He was listening to 'Time of the Season' in a German night club where they had to play for most of the night for hours and Argent was playing it and going into all different kinds of arrangements on that song—and then they hit on this particular rhythm; Chris really liked it and from that version is how he wrote, "Hold Your Head Up" which was a huge hit for Argent (number 3 on the charts)  So what we find with The Zombies is that there are all these connections that go on that link us to other bands and to other songs and sometimes we explain these stories as we go through the show."
Sadly, The Zombies never actually had the opportunity to play with The Beatles.
"We never played with The Beatles, the band we played with the most was called, "The Searches" we shared the same manager who also managed Dusty Springfield and in the states we played with the Shangri-Las, The Beach Boys in those days there were 15 acts on the bill that would sing a couple of songs each we played with Dionne Warwick, The Shirelles, Ben E. King, Chuck Jackson, etc. that was our first time in the New York," he explains.
Colin's message to fans is to come out and see their live show.
"Come and see the show, you'll be amazed at how many songs you'll recognize and we're playing with a really hot band who won't take any prisoners and I can guarantee it will be a wonderful show!"
More information and tour dates can be found here: