It's Official: Michelle Rodriguez & Cara Delevingne Are Dating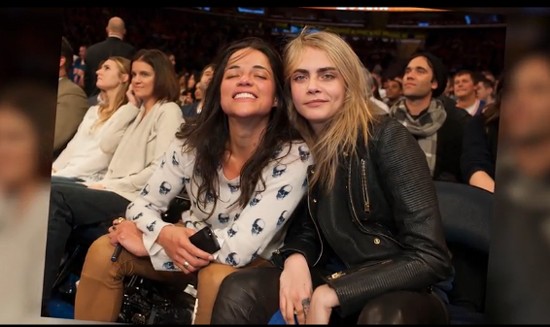 Actress Michelle Rodriguez and British model Cara Delevingne have been "hanging out" for a while, and after being spotted kissing at a New York Knicks basketball game last month, Rodriguez has admitted they are an item.
The "Fast & Furious" star, 35, told the Daily Mirror newspaper: "It's going really well. She's so cool. When we started hanging out I just thought she was awesome, and we have the best time together. She's hard though. You wouldn't want to mess with her in a fight."
Back in October, Rodriguez opened up about her sexuality. She told Entertainment Weekly: "I play a butchy girl all the time, so they assume I'm a lesbo. They're not too far off. I've gone both ways. I do as I please. I am too f---ing curious to sit here and not try when I can. Men are intriguing. So are chicks."
It's a budding relationship between Rodriquez and Delevingne - the pair have only been together for six weeks. They were introduced by mutual friends in the United States.
Rodriguez attended the BAFTAs solo on Sunday and told reporters that Delevingne, 21, was "doing her own thing" at fashion week. Asked if they were in a relationship, the actress replied: "We're just having fun."
She told The Sun newspaper: "We just dork around together. There's no other way to put it because I might be 'crazy' but Cara's crazier."
The pair were just spotted together at Prince's low-key gig at Ronnie Scott's in London on Monday night.