It's Not Too Late To Check Out AMC's 'Breaking Bad'

The most shocking show on television isn't found on HBO, Showtime, or even FX. No, instead it can be viewed on a channel known mostly for airing colorized westerns and archaic musicals.
AMC entered the TV fray with last year's brilliant "
Mad Men
." That classy show fit the old-school mold of the channel with its early-60s setting and nostalgic overtones. It was hard to imagine a show filled with raw fury would be the network's follow-up, but that's precisely what "
Breaking Bad
" is.
"Bad" ended its initial run a few weeks ago, but luckily for viewers who missed out, AMC will be re-running the strike-abbreviated 7-episode first season over the next couple months, giving audiences a chance to catch one of the most visceral series in recent memory.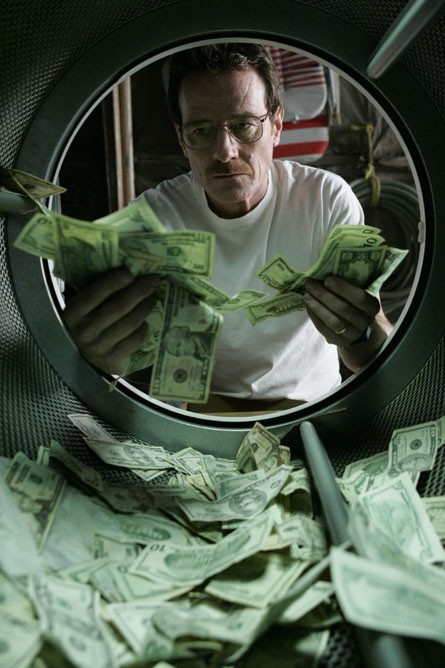 The show concerns the fate of Walt (
Bryan Cranston
), a high-school chemistry teacher who doubles as a car wash attendant to make ends meet. He is surrounded by his family, including his pregnant wife Skyler (Anna Gunn), cerebral palsy-afflicted teenage son (RJ Mitte), his DEA officer brother-in-law (Dean Norris) and his kleptomaniac sister-in-law (Betsy Brandt).
In the pilot, Walt goes with Hank on a ride along to bust up a methamphetamine den. While waiting in the car, Walt sees his former student Jesse (
Aaron Paul
) escape from a neighboring house. Walt tracks him down and proposes a partnership in which he will cook the meth and Jesse will sell it. The reason for his "breaking bad" is that he's recently been diagnosed with inoperable lung cancer and needs money to pay for his treatment and leave to his family in case he should die.
While this may sound like the exact same plot of "
Weeds
," there is nothing at all similar between the two shows. The former goes for a droll and satirical approach to the world of suburban drug use. "Breaking Bad" goes straight to the dark side, showing the viewer meth addicts at their worst and never shying away from raw demonstrations of the grisly consequences associated with drug dealing. There are the occasional comic moments too, but these are incredibly macabre for the most part, requiring a very dark sense of humor to really appreciate.
This series is so superb that it is hard to pick a singular strength. The writing is sublimely strong, drawing rich characters and creating situations that allow for maximum impact in their climaxes. There is a real sense of location throughout the series as well. Creator Vince Gilligan sets and films the series in Albuquerque, New Mexico, and uses the contrast of the endless desert and cookie-cutter ranch homes to reinforce the sort of Wild West feel drug dealing can create in a picaresque suburban environment, as well as the vast possibilities it holds for its purveyors.
The acting is as strong as you'll see on television. The performers owe a lot to the writers' ability to twist complexity out of even the more minor characters, giving them a lot of meat to dig into. Each actor is fully capable of handling the challenges presented by the scripts, and it is a real delight to watch such a strong cast reveal itself on the screen.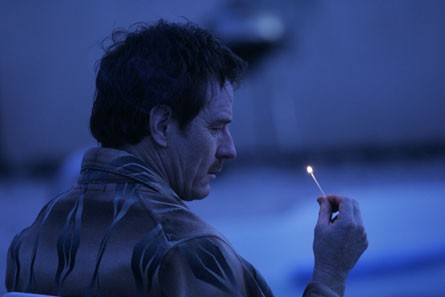 The real strength of this series lies in one of those actors: Bryan Crantson. His Walt is the best lead performance seen on television since
James Gandolfini
unveiled Tony Soprano. Cranston's performance is an absolute revelation. He manages to show us the full scope of Walt in each moment he is on screen. Not only do Walt's actions demonstrate his renewed zeal for life, but it's within the way Cranston presents the character he created that we really are able to glimpse exactly what this man is about. You cannot do a better job of acting than he does in this series, and his performance is the best of many great reasons to tune in.
There is an intense fire burning within Walt despite his frumpy and meek exterior. It seems that most of his drive was drained during the last several years and he's taken it out on many students (including Jesse) who he feels are not living their lives to the fullest. Walt is reinvigorated by his meth business, causing him to act in an intense and often heinous nature as he tries to grow the cottage industry with Jesse. Flashbacks and recollections at points throughout the first season reveal a different sort of Walt, a brilliant chemist who had the ability to change the world and achieve tremendous success.
It is through Walt that "Breaking Bad" reveals its true self. The series is less a show about drug dealing than it is about the frustrations of complacency. Every character on the series seems to have a goal far beyond their present situation and often behave irrationally or immorally in order to meet those ends. There is also a strong resentment towards those who've found success and a real sense of serenity present in those characters.
"Breaking Bad" is a wonderfully realized show with tremendous acting and writing and thematic elements permeating its every scene. On top of all that, it's an extremely entertaining thrill ride that will leave you breathless on the couch as the credits roll.
Story by Andrew Payne
Starpulse contributing writer