It's Iconic Dance Week On 'Dancing With The Stars'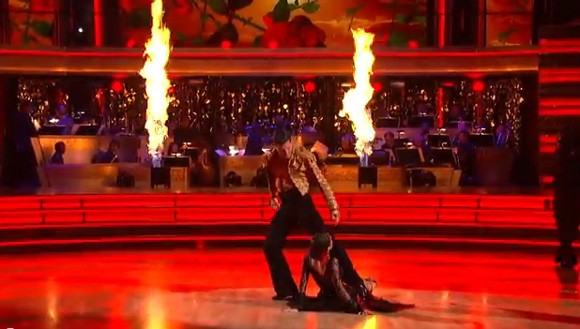 It was iconic dance week on "Dancing with the Stars" where the celebrities had creative control as they recreated iconic dances from previous seasons.  Last week head judge Len Goodman told the couples that he wanted to be amazed, wowed, and shown moves he had never seen before.
It would turn out to be a night of surprises and not just from the couples dances as host Tom Bergeron dropped a couple of surprises on the dancers themselves.
Singer Drew Lachey and Anna Trebunskaya got things started off with a recreation of the first dance ever seen on DWTS.  Drew turned his Cha Cha into a concert production that the judges said had power, was sharp, clean, tight, and precise.  Drew and Anna scored 24 points for their Cha Cha.
Saying that he was not comfortable in trying to recreate an already iconic dance, Giles finally chose the Tango to "Sweet Dreams" by Erin and Maks.  Giles began his performance up in the air flying above the dance floor.  Bruno called the performance 50 Shades of Giles and Carrie Ann said that if Peter Pan had looked like that she would have paid more attention.  Giles and Peta scored 25.5 points for their Tango.
Melissa and Tony took on the Samba to "Congo" originally performed by champion JR Martinez and Karina.  The judges called the dance fantastic, stellar, imaginative, and with great technique.  Donned in pink to support breast cancer awareness Melissa and Tony scored 27 points.
Apolo and Karina needed a little help from DWTS Troupe members Oxana and Emma as they performed Giles and Cheryl's Foxtrot to "Fever".  In the statuesque performance Karina was a statue come to life in a performance the judges said had musicality, classy, exquisite, and memorable.  Apolo and Karina earned their highest score so far with 25.5 points.
Kelly Monaco and Valentine Chmerkovskiy recreated brother Maks Paso Doble with Laila Ali.  Bruno called it a defining performance, Carrie Ann label them the couple to watch, and Len said it had terrific expression and musicality.  Kelly and Valentine scored 27 points for their Paso Doble.
The first surprise announcement of the night came in for form of a guest judge for next week's show – entertainer and former judge Paula Abdul.
Kristie and Maks performed the Carson Kressley Cha Cha to "Moves Like Jagger" and Kristie had Maks looking like Jagger with tight pants and a wig.  The judges agreed that the dance was a lot of fun with Bruno saying that he nearly busted a gut.  Kristie and Maks scores 24 points for their Cha Cha.
The week after she was eliminated in season five Mel B and Maks dedicated their Paso Doble to Sabrina Bryan.  In a fitting tribute Sabrina chose to recreate that dance with partner Louis Van Amstel.  The judges said the dance was full of risks, had great technique, and was fabulous.  Sabrina and Louis scored 25.5 points for their Paso Doble.
Emmitt Smith and Cheryl Burke performed the Paso Doble originally danced by Mario Lopez and Karina.  The couple had wanted to perform a dance that included a donkey on stage but the donkey had other ideas.  Emmitt ended his dance by running across the dance floor to slide between Cheryl's legs.  Bruno called Emmitt a raging bull and Carrie Ann called him a human torpedo.  Emmitt and Cheryl scored 25 points for their dance.
Helio and Chelsie recreated the Quickstep done by Apolo and Julianne that included a wardrobe malfunction when Helio got caught up in Chelsie's dress.  Despite the trouble the judges said the dance deserved another chance and wanted to see it again.  Helio and Chelsie scored 25.5 points even with the mishap.
Big surprise number two came when Tom Bergeron announced that next week's dances would be chosen by the celebrity's fellow dancers.  The couples will learn what dance they will perform during the results show on Tuesday night.
After two weeks with the lowest scores Bristol Palin had a meltdown during rehearsals where she accused partner Mark Ballas of wanting one of his former partners – Shawn or Sabrina.  Bristol and Mark performed a Paso Doble dressed as the queen and king on a chessboard; it was the recreation of a dance originally performed by Joanna Krupa and Derek Hough.  The judges agreed it was Bristol's best dance yet with the most content.  Bristol and Mark scored their highest points yet with 22.5 but still managed to hold down the bottom spot on the leader board.
The final dance of the night was a Quickstep from Shawn Johnson and Derek Hough that was originally performed by Helio.  The pair began the dance by jumping on a trampoline and ended by falling off the stairs in a dance that while all the judges agreed was memorable, the most fun they had ever seen, and incredible; the couple did break the rules and would be scored accordingly.  Rule breaks and all Shawn and Derek scored 26.5 points for their Quickstep that included a 9.5 from Bruno.
On Tuesday's results show two couples will be eliminated from the competition.
Bristol and Mark – 22.5
Drew and Anna – 24
Kristie and Maks – 24
Emmitt and Cheryl - 25
Giles and Peta – 25.5
Apolo and Karina – 25.5
Sabrina and Louis – 25.5
Helio and Chelsie – 25.5
Shawn and Derek – 26.5
Melissa and Tony – 27
Kelly and Valentine - 27