'It's Complicated' Just The Latest In String Of Successes By Nancy Meyers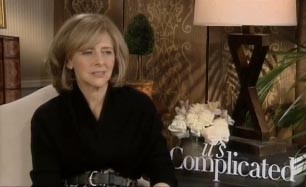 Filmmaker Nancy Meyers has directed, written, and produced some of Hollywood's biggest blockbusters. Not only has Meyers been able to be successful in a male-dominated industry, but she has simultaneously changed the face of movies by writing films which feature strong female roles.
Her first big-screen success alone challenged film conventions. Meyers co-wrote and co-produced the 1980 comedy Private Benjamin; she recently told the New York Times that "everybody turned that movie down. Everybody. More than once."  It was abnormal to have a film not only starring a strong woman, but also without a male counterpart. Despite the fact that it starred Goldie Hawn at the height of her career, this was still a huge risk – one which became one of the highest grossing films of 1980 and was nominated for three Academy Awards.
In the 90's Meyers' writing success continued with the films Father of the Bride and Father of the Bride Part II which was received positively both by critics and at the box office. She proceeded to make a name for herself with her directorial debut of Disney's hit The Parent Trap, starring Lindsay Lohan.
The Parent Trap was just the beginning of her directorial success.  She went on to direct What Women Want, which became the most successful film directed by a woman and the #5 highest grossing film of 2000. Meyers continued to write, produce, and direct three wildly popular films in a row with The Holiday, Something's Gotta Give, and, most recently, It's Complicated. Featuring an all-star cast of Meryl Streep, Alec Baldwin, and Steve Martin, It's Complicated will be released this Tuesday, April 27 on DVD and Blu-ray.


The LA Times cited that in the top 100 films of 2007, only 2.7% of them were directed by women.  In addition, though the US population is over 50% female, in these same films only 29.9% of speaking parts were awarded to women.  Meyers is an inspiration for the next generation of female filmmakers. As one of the most successful director-writer-producers in Hollywood, it's a sure bet that whatever she works on will have strong characters and a lot of heart – as well as a lot of box office earnings.
Win a copy of "It's Complicated" on Blu-ray!
Story by Amber Wojcek
Starpulse contributing writer