It's Complicated Comes To Blu-ray & DVD April 27

Long forgotten passion and hidden emotions unexpectedly reignite with hilarious results in It's Complicated, coming to Blu-ray™ Hi-Def,  DVD and Download to Own on April 27, 2010 from Universal Studios Home  Entertainment. Two-time Academy Award® winner Meryl Streep (nominated again this year for Julie and Julia), Emmy® and Golden Globe® winner Alec Baldwin ("30 Rock," The Departed) and Emmy® winner Steve Martin (The Pink Panther, Baby Mama) star in the latest smart, funny, feel-good comedy that's the perfect gift for Mother's Day from Oscar® nominated writer and director Nancy Meyers (Something's Gotta Give, The Holiday, What Women Want).   

It's Complicated also features John Krasinski ("The Office"), Lake Bell ("Boston Legal"), Mary Kay Place (Youth in Revolt), Rita Wilson (Big Dogs), Alexandra Wentworth ("Head Case"), Hunter Parrish (17 Again) and Zoe Kazan (The Private Lives of Pippa Lee) in this light-hearted story of a woman whose life has it all—and then some—when she finds herself in an unexpected, if not exactly unenjoyable, love triangle with her still sexy ex-husband and an attractive new suitor. Bonus features include a behind-the-scenes featurette and filmmaker commentary.

Two-time Academy Award® winner Meryl Streep, Steve Martin and Alec Baldwin star in this hilarious look at marriage, divorce and everything in between.  Jane (Streep) has three grown kids, a thriving Santa Barbara bakery and is on surprisingly amicable terms with her ex-husband Jake (Baldwin).  Finally, a decade after her divorce, life's options seem endless—until a few bottles of wine with Jake turns their cordial relationship into an impulsive affair. Caught in the middle of their rekindled romance is Jake's young wife and Adam (Martin), a recently divorced architect who's fallen hard for Jane.  Could love be sweeter the second time around?  It's… complicated!  From writer/director Nancy Meyers comes the comedy that critics call "laugh-out-loud funny" (Rex Reed, THE NEW YORK OBSERVER).

Bonus Features
The Making of It's Complicated — Go behind the scenes of the year's most original comedy for grown-ups with the stars and filmmakers.
Feature Commentary with writer, director and producer Nancy Meyers, executive producer Suzanne McNeill Farwell, director of photography John Toll and editor Joseph Hutshing.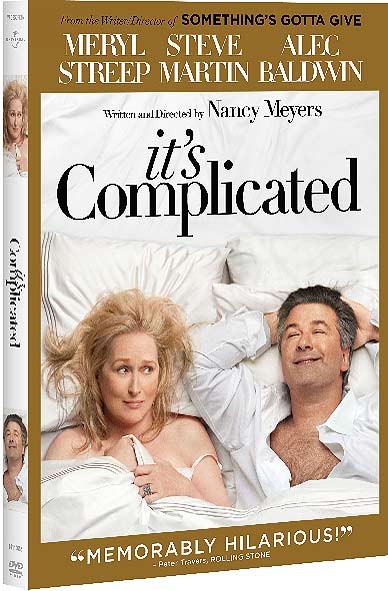 ---