It's A Wonderful Lie: Season Two Of 'The Riches' Comes To DVD March 24

Steal the American Dream as the FX original series
The Riches
Season Two cons its way onto DVD March 24th from Twentieth Century Fox Home Entertainment. Combining richly dark humor with gripping family drama and intricate plot twists, the masterful final season of "The Riches" stars Emmy Award winner
Eddie Izzard
(
Ocean's Thirteen
,
My Super Ex-Girlfriend
) and Academy Award nominee
Minnie Driver
(
Good Will Hunting
,
Grosse Pointe Blank
) in her Golden Globe and Emmy nominated role.
This new season of "The Riches" follows Wayne and Dahlia Malloy (Izzard and Driver), lovable gypsies and con-artists who adopt the identity of a very wealthy couple, as they continue to deal with the mishaps and difficulties of convincing their greedy "buffer" neighbors that they are indeed the law abiding citizens of the Doug and Cherien Rich family.
Shannon Marie Woodward
(
The Haunting of Molly Hartley
),
Noel Fisher
(
Agent Cody Banks
) and
Aidan Mitchell
(
Simple Things
) co-star as The Malloy's three children, whose adjustment from living in an RV to a mansion in American suburbia frequently threatens to reveal the family's true identity. Featuring all seven episodes from the series' final season on a two-disc DVD set, "The Riches" Season Two also includes a brand new featurette, Eddie Izzard: Revealed.

Itinerant con artists posing as a wealthy suburban family, The Malloy's are stealing the American dream, but their elaborate ruse may be stealing their very souls. Facing near-certain detection, the family is torn asunder as Dahlia (Driver) and the children hit the open road, and embattled patriarch Wayne (Izzard) remains in Eden Falls, desperately scheming to pull off one last impossible con, so his family can stop running-forever.
The "The Riches" Season Two two-disc DVD collection includes all seven episodes of the final season presented in widescreen format (1.78:1 aspect ratio) with English 5.1 Dolby Digital sound with English, Spanish and French subtitles. Individual disc content as follows:
Disc 1
-The Last Temptation of Wayne
-Friday Night Lights
-Field of Dreams
-Slums of Bayou Hills
Disc 2
-Trust Never Sleeps
-Dead Calm
-The Lying King
-Special Feature: "Eddie Izzard - Revealed" featurette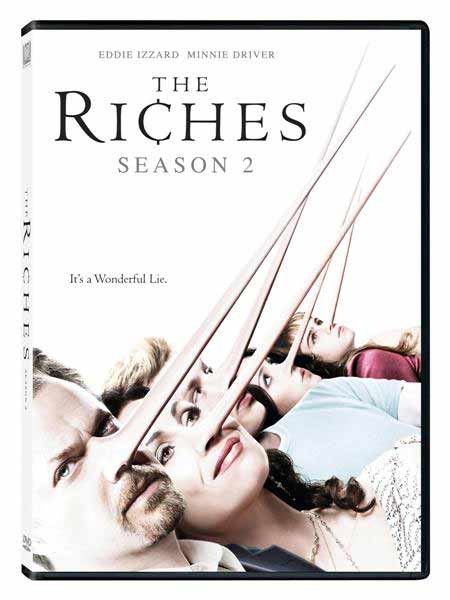 Click the pics for gallery & larger images
A recognized global industry leader, Twentieth Century Fox Home Entertainment LLC (TCFHE) is the worldwide marketing, sales and distribution company for all Fox film and television programming on VHS, DVD and Blu-ray Disc (BD) as well as acquisitions and original productions. The company also releases all products around the globe for MGM Home Entertainment. Each year TCFHE introduces hundreds of new and newly enhanced products, which it services to retail outlets -- from mass merchants and warehouse clubs to specialty stores and e-commerce - throughout the world. Twentieth Century Fox Home Entertainment LLC is a subsidiary of Twentieth Century Fox Film Corporation, a News Corporation company.