Italian Singer Tiziano Ferro 'Comes Out'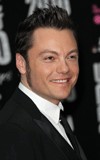 Italian singer Tiziano Ferro has 'come out' as gay after years of speculation about his sexual orientation.
 
The pop singer has been subjected to endless gossip about his love life and admits the constant reports prompted him to reveal his sexuality to the public.
 
He tells Italy's Vanity Fair magazine, "For a long time I haven't felt good about myself... and after many tough years... I've come to the conclusion that I want to live better."

"They said I was living a double life, that I was with a man. I would get very upset because I wished I had a boyfriend, but I had no one."