Isabel Lucas Backs Earth Hour 2012 Campaign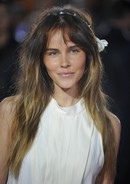 Australian actress Isabel Lucas has pledged to plant 100 trees if fans join her in a challenge to save the environment.

The Transformers star is supporting Earth Hour 2012, which encourages the public to switch off their lights for 60 minutes on March 31st to conserve energy and encourage sustainability.

And she's promised to personally plant 100 trees if 100 of her fans prove they have done the same.

Lucas says, "Earth Hour is an opportunity to come together to support a cause for the greater good of our planet and our whole human family. A moment to feel grateful for the life-giving trees, the air we breathe, the food and water that nourish us and the beauty of mother nature."

"I hope Earth Hour inspires us to consider and integrate sustainable ways of living that respect our earth and one another."