Is This It For James Bond? Find Out In This Week's EW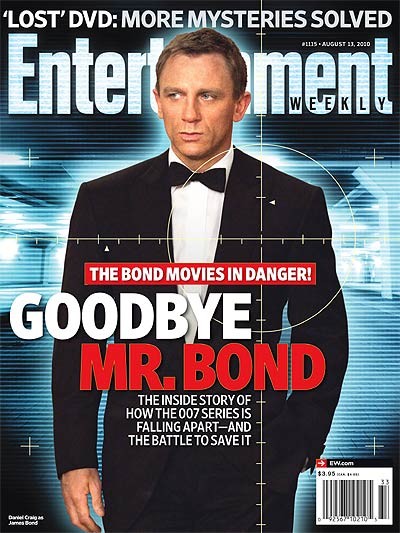 With MGM up for auction - and no buyer in sight - the world's greatest film franchise lies in peril. This week's cover story investigates what's next for James Bond, and whether Daniel Craig has sipped his last shaken martini.

Up until last spring, it looked as if James Bond would indeed return, but after decades of invincibility, it seems as if 007 has finally been defeated, at least for the foreseeable future. What's holding up production on the next movie is the sale of MGM, which went up for auction last November and still hasn't found a buyer. Then, in July, there was more reason to fear the worst, when London's Mirror reported a rumor that Bond 23's indefinite suspension had been turned into an outright cancellation. "No franchise can afford to be away from screens for that long anymore," says a former MGM exec. "You lose too much momentum. Even for Bond, it could be deadly." The irony here is that Bond has otherwise never looked healthier. The last two movies have together grossed a billion dollars worldwide.

Obviously, the future of MGM and the Bond franchise is a tough subject right now, especially for people who've made their livings from the series. But it's not hard to imagine what's going on in the Broccoli siblings' (producers) heads. "They must be freaking out," offers one of the insiders. "What they wanted was a sale of MGM to Sony or Fox or Time Warner. A big studio with giant vaults of cash that would welcome the Bond franchise with open arms. But if MGM goes into bankruptcy, they're screwed. With bankruptcy comes a long line of people with their hands out and all sorts of potential lawsuits. The Broccolis could get caught up in legal limbo. That would make it very difficult for them to get the Bond franchise off the ground again."

PLUS: Bond Highs & Lows, Daniel Craig moving onto "The Girl With The Dragon Tattoo," and a look at other projects that are in danger because of MGM's business woes.

Also in the new issue:

Christina Applegate Is Cracking Us Up
Exclusive Sneak Peek: Hidden Treasures From The Lost DVD
Plus: The Final Word On Lost With Lindelof And Cuse

It's all in this week's EW, on newsstands everywhere August 6!
Click for more great Daniel Craig pictures: