Is 'The Divide' Television's Next Great Series?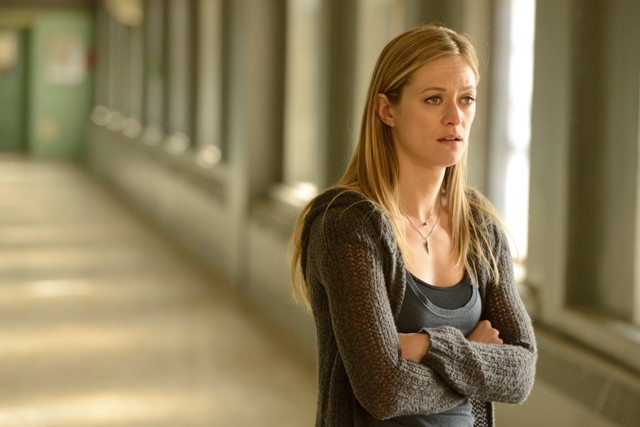 Television audiences are always looking for the next great series. We're hungry to find our Sopranos, The Wire, The West Wing, Mad Men, Breaking Bad, or Game of Thrones. Come Wednesday, you can add The Divide to that list.
WEtv's serial drama about a tireless Philadelphia law student (brilliantly played by Marin Ireland) who won't let go of an eleven-year-old murder case and ends up on a collision course with the city's tough District Attorney (a remarkable Damon Gupton) is the kind of television that you can't turn away from. Establishing a deadline early on in the pilot, the series sets you up to squirm as you wonder if anything will happen in time to make a difference.
Yet that burning question is also a launching point for tension from all sides, whether it's legal wranglings or frayed family dynamics. There's not a scene that doesn't have meaning, and more than a few that will leave you shocked.
But what elevates The Divide to elite status is that, like all the aforementioned great shows, it's much more than just great entertainment. It's a series that provokes discussion and gives plenty of food for thought. Nothing about this show fits into any kind of neat box. Ireland's character, Christine Rosa, is at times insufferable and abrasive; her heart's in the right place, but that doesn't make her always likeable.
Nor does it make her the hero of the piece. There's a great scene where Christine's boss (Paul Schneider) matter-of-factly informs her that not all cops are unethical. This is not a one-sided "crusader against the establishment" story where one person's right and everyone else is wrong.
Rather, the series leaves it up to you to decide who's who - and it varies from episode to episode, if not scene to scene. District Attorney Adam Page (Gupton, who recently played another lawyer on USA's Suits) made his career on this particular conviction, so he's naturally worried about his future, but stresses that all he wanted was to convict the right people.
With the murder victims being black and the alleged killers being white, to say nothing of Adam and Christine themselves, race is also part of the show's dialogue, along with class and politics and family. This is an obtuse shape of a show, with points of contention on any number of subjects, and characters who are written as simply people rather than archetypes.
There's technical brilliance here, too. The series was co-created by Academy Award-nominated screenwriter and director Richard LaGravenese (The Fisher King) and multi-hyphenate Tony Goldwyn (Scandal), and you can feel their experience and insight throughout the piece. The characters are developed efficiently, the dialogue sounds realistic rather than preachy, and Goldwyn's direction of the pilot is crisp and straightforward. Maybe it's because they each understand multiple parts of the creative process, but the pair have come up with a finished product that has a consistent feel and voice all its own.
Much of The Divide's buzz has centered on the fact that it's WEtv's first scripted series, which might be a challenge given that the network is best known for reality TV shows like Bridezillas and Marriage Boot Camp. But it's worth noting that WEtv is the sister channel of AMC, which brought us Breaking Bad, Mad Men and The Walking Dead.
And The Divide very much feels like an AMC series: uncompromising, sometimes uncomfortable, always worth watching. This is a series that will not only capture audiences with its impressive acting, writing, and direction - but should also motivate discussion on at least a half-dozen subjects. It will change the way you think. And that's the kind of television we're always looking for.
The Divide premieres tomorrow, Wednesday, July 16 at 9 PM ET/PT on WEtv (check your local listings for specific channel).