Is 'Saturday Night Live: Weekend Update Thursday' Too Much?

"
Saturday Night Live: Weekend Update Thursdays
" returns tonight and in the words of co-anchors
Seth Meyers
and
Amy Poehler
, all we can say is 'Really?!?!' Last year's brief inaugural run of the show at least made some sense as the country was in the midst of an election, and with controversial candidates like
Sarah Palin
and
Barack Obama
, there was a goldmine of controversy for the writers to feed off (not to mention any reason to bring
Tina Fey
around is a good reason).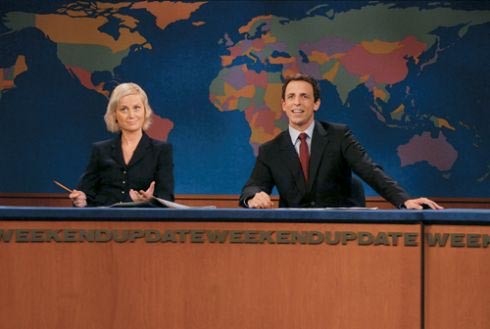 Now, however, there will only be one night in between "WUT" and "SNL" and how much could possibly happen during that time? Sure, Amy Poehler will thankfully return to her anchor chair (for the first two episodes ) after leaving "SNL" halfway through last season for "
Parks and Recreation
," but this still feels solely like an attempt to boost ratings for "Parks" and newcomer "
Community
." If NBC truly wanted to expand "Weekend Update" it would be better suited as a nightly mock news show in the vein of "
The Daily Show
" or "
The Colbert Report
" (which both obviously owe a huge debt to "Weekend Update.") We'd much rather watch that than
Jay Leno
every night. But mostly I'm just bitter that the show is taking up "
30 Rock
's" timeslot. Who else needs their Liz Lemon Now!?!
Story by
Michael Mellini
Starpulse contributing writer