Is Real Life Celebrity Distracting In 'Reel' Life Couples?

The upcoming Universal Studios romantic comedy "
Couples Retreat
" (Oct. 9) is about a group of friends with various problems in their marriages who go on a therapeutic tropical island vacation together. Written by and starring
Jon Favreau
and
Vince Vaughn
, it also features
Jason Bateman
,
Faizon Love
,
Malin Akerman
,
Kristen Bell
, and
Kristin Davis
.
The movie is full of the usual relationship pitfalls and tensions, offset by the manic one-liners for which Vaughn has become known. It focuses on four couples, but throw in all of these recognizable faces, and the audience is taken out of the story that much more.
Whether you're wondering where Davis' trademark
Charlotte York
pearls are or are waiting for
Jennifer Aniston
to show up and break down in front of Akerman for stealing her man, having all of these celebrities well known for other couplings play opposite each other on screen is just plain distracting!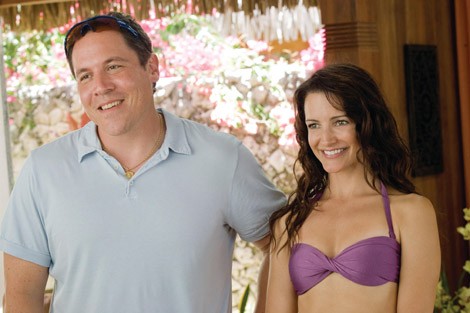 Image © Universal Pictures
A prime example of this has to be
He's Just Not That Into You
, which crashed and burned at the box office due to its attempt at
Love Actually
interwoven plot lines that fell to the wayside due to the focus placed on the names attached. And, oh, were there names attached!
Ben Affleck
, Jennifer Aniston,
Drew Barrymore
,
Scarlett Johansson
,
Jennifer Connelly
,
Justin Long
, etc. The credits read more like a People Magazine index than a call sheet, with each one gunning for the "central role" in the film. In the end, though, it was just a spectacle with no substance. And the real-life relationship with Justin & Drew didn't help viewers either. Who didn't think abou the former couple when watching them on screen?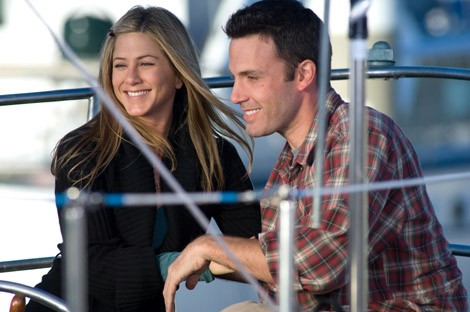 Image © Warner Bros. Entertainment Inc. All Rights Reserved
Similarly, in
Ghosts of Girlfriends Past
,
Matthew Mcconaughey
played the same player/cad/pretty boy that he always does - and until he had his son last year, he seemed to be the same in real life. However, this time around, his "never settled down" Peter Pan-esque character was matched up with the sweet and "settled"
Jennifer Garner
. If there were ever two people who's public images seemed to be miles apart, it would have to be these two, and trying to see McConaughey's laid-back stoner/surfer persona mesh with the conservative and serious Garner was just plain uncomfortable. In this case, real-life celebrity bled into the actors' roles, and their coupledom was not believable even in a fictional world.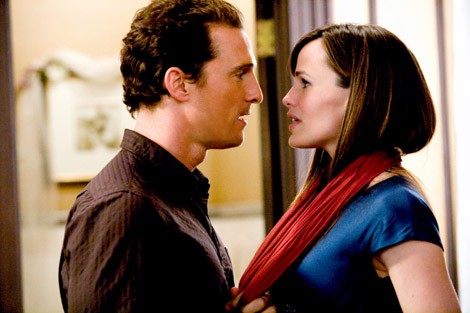 Image © Warner Bros. Entertainment Inc. All Rights Reserved.
In the fish-out-of-water romantic comedy,
New in Town
,
Renee Zellweger
, as a stuffy businesswoman, has to adapt not only to a small rural town but also to a scruffy blue-collar guy (
Harry Connick Jr
). Zellwegger has had success in romantic comedies, but seeing someone usually so buttoned-up forced to get down in the farmland dirt, so to speak, just didn't work. The charming Connick Jr. did his best to win over audiences for the both of them, but Zellwegger's tightly pursed lips, scrunched up face, and squinty eyes never softened enough to convince that her icy heart had melted with the Minnesota snow.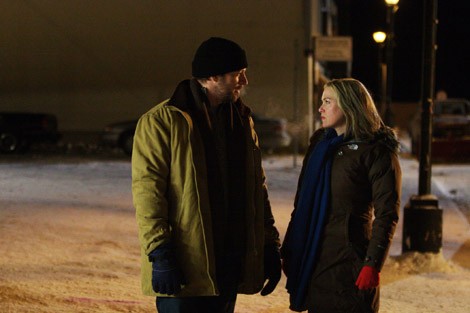 Image © Lionsgate Entertainment
Perhaps surprisingly, one of the films in which big name celebrities coupling on the big screen actually worked was
Mr. and Mrs. Smith
. It is perhaps ironic, considering the two involved were two of the biggest celebrities in the world and were known for high-profile (and highly publicized) previous relationships. However, at the time "Mr. & Mrs. Smith" was released in 2005,
Angelina Jolie
was making headlines for her work with the UN instead of her failed marriages, and
Brad Pitt
was managing to lay kind of low in the wake of his then-wife's hit show
Friends
finally being off the air (it wasn't until the movie was released and the on-screen chemistry so obvious that any tabloid fodder really began). Perhaps the difference here, though, is that Jolie and Pitt play different characters in all of their movies, so it was easy to see them slip into someone else, whereas the majority of the aforementioned simply play the same character again and again, so it's hard to see them as anything else.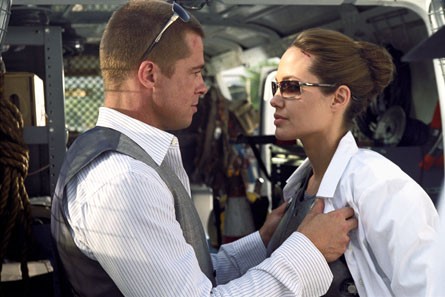 Image © Courtesy BH Impact
What do you think? Does real life celebrity interfere with the roles they play on the big screen? Let us know in the comments!
Story by
Danielle Turchiano
Starpulse contributing writer