Is President Obama Better Suited To Handle An Alien Invasion Than Mitt Romney?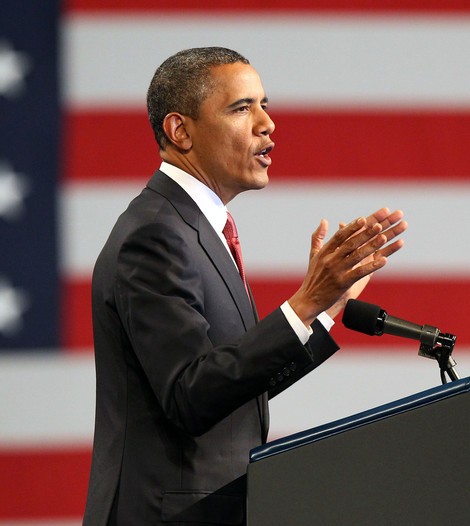 More than 80 million Americans believe that UFOs exist, according to a new U.S. extraterrestrial survey from National Geographic Channel (NGC).
 
Also, many believe in tangible proof that aliens have landed on Earth and think that government officials are involved in covering up paranormal activities. Moreover, most citizens would not mind a minor alien invasion, because they expect these space-age visitors to be friendly—like the lovable character depicted in Steven Spielberg's popular film "E.T."

According to Erin Ryder, NGC's executive producer and tech investigator for new series "Chasing UFOs," "I think this goes to show that Americans are well informed. Science has shown us that there are 100 billion galaxies, each with millions of stars, so to think that Earth is the only place with evolved life is just as unbelievable as some of the wild claims we investigate.

With blockbuster movies like "The Avengers," "MIB3" and "Prometheus" feeding the imaginations of moviegoers this summer, more than seven in 10 (71 percent) Americans think that aliens are more likely to exist than are superheroes, vampires and zombies. But if aliens attacked our planet, more than one in five (21 percent) would most likely call on the Hulk to deal with the havoc. Far fewer would most trust Batman (12 percent) or Spiderman (8 percent) to step in.

President Obama and his staff might have to be on high alert for an alien attack if the predictions of many Americans come to fruition. Nearly one in five (19 percent) think Washington, D.C., is the most likely landing zone for a UFO. And more than one in four (28 percent) think one would touch down in Roswell, N.M., which is certainly best known for unidentified flying objects. Furthermore, many think officials have put a tight lid on what they actually know, as nearly four in five (79 percent) believe that the government has kept information about UFOs a secret from the public.

Thanks to modern-day TV depictions of friendly aliens like "3rd Rock from the Sun" and the upcoming comedy series "The Neighbors," many Americans have warmed up to the idea of incorporating extraterrestrials into their lives.
If a UFO happened to land in a backyard, many would welcome the "little green men" into their homes. Nearly one in four (22 percent) Americans would try to befriend the alien, while far fewer would run away (15 percent) or lock their doors (13 percent). Only 2 percent would unleash their inner Ellen Ripley, the fictional protagonist from "Alien," and try to inflict bodily harm.
And who would Americans send to be experimented on by aliens? Mothers-in-law? Ex-husbands? Nearly half (47 percent) would choose their bosses for the job. Fewer than one in 20 would pass their child (4 percent) or mother (3 percent) on to the aliens.

New series "Chasing UFOs" premieres Friday, June 29, at 9 & 10 p.m. ET/PT. For more information, visit natgeotv.com/chasingufos and join in the conversation on Twitter with the hashtag #chasingUFOs.