Is Nicolas Cage Washed Up or Just Making Bad Decisions?

In 1996
Nicolas Cage
stood on stage at the Dorothy Chandler Pavilion and accepted his first, and currently only, Oscar for his tour de force performance in Mike Figgis'
Leaving Las Vegas
. This past year, while starring in Neil LaBute's ill-fated remake of the British horror classic
The Wicker Man
, Cage, donning a grizzly bear costume, punched a woman in the face.
There are two sides to Nicolas Cage-the go-to superstar with the droopy eyes and smug demeanor and Cage the talented, easily forgotten actor. Unfortunately the latter, Academy Award winning Cage persona is a distant memory among the star's recent wave of mediocre action roles.
Upon a quick look back at Nicolas Cage's career one can pinpoint the exact moment when he changed from quirky but gifted up-and-coming actor to the laughable megastar moviegoers know today. In 1995 Cage nailed what remains the performance of his career with his riveting and sympathetic portrayal of a suicidal alcoholic in "Leaving Las Vegas." Shortly after Cage starred in what would be the first of many big budget Hollywood action vehicles with
Michael Bay's
The Rock
.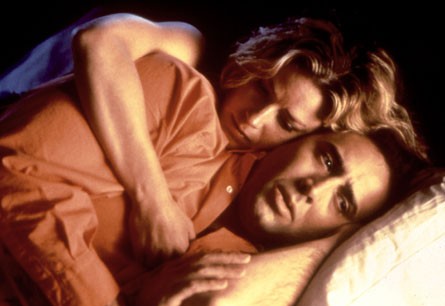 Nicolas Cage with Elisabeth Shue - Leaving Las Vegas 1995
Oscar notoriety can do strange things to the careers of great actors. On the one hand "Leaving Las Vegas," an extremely small-budgeted indie film, paved the way for Cage to explore bigger projects but it also hindered the actor's notoriety for working on smaller more character-focused pictures.
Prior to "Vegas" Cage starred in the Coen brothers' extremely underrated comedy
Raising Arizona
, unleashed all hell in his daring role as the Elvis aficionado Sailor in
David Lynch's
Wild at Heart
, and even managed to show his chops as an onscreen romantic in
Moonstruck
and
It Could Happen to You
.
Raising Arizona 1987

With "The Rock," which to be fair is a decent explosion heavy action flick, it seemed like Cage might alternate between his the star roles and the quality roles. Instead as the roles got bigger, his career sagged. He finished up the 90s with a string of overly acted performances in films like
Con Air
aka "The Rock" on steroids, the extremely ridiculous
Face/Off
(anyone out there remember this film's savvy plot?) sentimental garbage like
City of Angels
, and
8mm
a disturbing and completely unnecessary film about snuff.
In 1999 Cage signed on for
Martin Scorsese's
now terribly overlooked
Bringing Out the Dead
, a small character study piece that brought Cage's acting chops back in the spotlight. His performance should have been more applauded upon its release, but instead it remains a forgotten gem in both Cage and Scorsese's canons.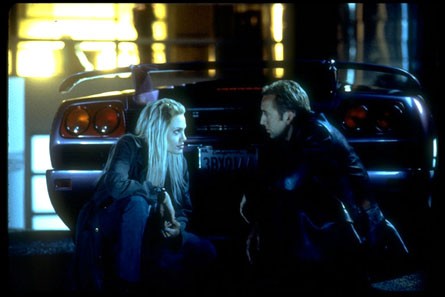 The beginning of the millennium saw the return of yet another over-the-top action role with
Gone in Sixty Seconds
, followed closely by
The Family Man
a mediocre family drama about time travel that wanted desperately to be a modern
It's a Wonderful Life
. Cage's two back-to-back period war pieces-
Captain Corellis Mandolin
and
Windtalkers
-were both, yet again, overly produced, overly acted flops.
Cage's only truly memorable performance (or should we say performances) of this decade was in the
Spike Jonze
/
Charlie Kaufman
satirical drama
Adaptation
, for which Cage received a well-deserved Oscar nod. Forget Cage's physical transformation that he undertook for the role as the twin Kaufman brothers. The brilliance of his performance is in the neurotic and detailed mannerism of both characters. There's Charlie the nervous, self-loathing writer always over analyzing his life, and Donald, the polar opposite whose easy-going mentality on life and work plays in perfect harmony with his brother. Had Cage not been up against
Adrien Brody
and
Daniel Day-Lewis
he would have been a shoe-in for his second Oscar.
Cage recently hit rock bottom with his role in "The Wicker Man," a film that was largely ignored during its theatrical run (and heavily panned by critics) but has since found a rather curious cult following thanks to countless Youtube clips of Cage's signature overacting. The scene involving Cage in a bear suit pummeling a young Amish looking woman is just the tip of the iceberg in terms of the ridiculousness of this film (prior to this scene he screams a lot, steals a bicycle at gun point, and beats up two other women, including landing a high karate kick into actress
Leelee Sobieski's
chest). Perhaps
Neil LaBute
, a respectable director it should be noted, was out to make a campy comedy disguised as a horror movie. Perhaps this is the case. More likely though "The Wicker Man" disaster was the result of a bad idea to begin with, an even worse script, and Cage in arguably his biggest WTF performance to date.
Nicolas Cage Punches A Woman Whilst Wearing A Bear Suit

Still, despite a recent lull in his film choices Cage is far from a being labeled a washed up actor but rather an unlucky one.
Cage has always been a film and pop culture enthusiast and is a bit of an adventurer with his role selections. He seems to enjoy the experience of trying new projects, taking risks and working with a wide gamut of filmmakers. Lately this ambition has worked at a disadvantage. This is the tragedy of Cage's career.
A look back at this catalogue shows aspirations to work with promising scripts and with some of the greatest filmmakers out there, but unfortunately time after time he got stuck in failure after failure. "City of Angels" was a remake of a respectable German film,
Wings of Desire
, by Wim Wenders,
Snake Eyes
teamed Cage up with
Scarface
director Brian DePalma, "Face/Off" and "Windtalkers" were both duds in Hong Kong action film legend
John Woo's
repertoire,
Captain Corelli's Mandolin
was John Madden's follow-up to his Best Picture Oscar winner
Shakespeare in Love
, and 2006's "World Trade Center" was Cage's first collaboration with Oliver Stone. As for
Ghost Rider
chances are the comic book geek-boy in Nicolas Cage (he did after all name his son Kal-Al after Superman's father. Superman. Seriously.) was eager to get in front of the CGI green screen. Then again who wouldn't want to see themselves as a superhero.
Even among Cage's upcoming films (and according to Imdb.com he has a whopping ten projects in the works between now and 2010) he is set to work with cinematic giants such as
Roman Polanski
(in the thriller
The Ghost
), Werner Herzog (in a questionable remake of
Bad Lieutenant
), Alex Proyas (a sci-fi film called
Knowing
), and a new
John Carpenter
thriller called
Scared Straight
.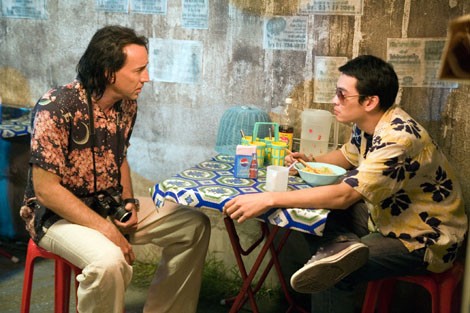 Nicolas Cage in Bangkok Dangerous - Opens September 5
Nicolas Cage's career is not yet done with but rather on hiatus. He's just in need of a couple more riveting performances to remind viewers that he still has acting chops. It's hard to say if his new film
Bangkok Dangerous
(opening today) will be the ticket to respect he needs. Judging from the film's trailer and Cage's revival of the long greasy hair days of "Con Air" chances are this will be another forgettable action packed popcorn flick. For those who doubt Cage's talent revisit some of his past greats, especially "Leaving Las Vegas," which remains one of the finest films of the 90s, not to mention one of the most brutal and honest portrayals of alcoholism ever to hit celluloid. In his prime he was one of the most promising rising actors. Now even though it's often hard to take him seriously he still may have some surprises up his sleeve.
Story by
C. Warner Sills
Starpulse contributing writer