Is 'New Girl' With Zooey Deschanel Worth Watching?
Zooey Deschanel is the "New Girl" Jess in FOX's most anticipated new sitcom of the fall.  The show officially premieres Tuesday (tonight) at 9/8c, but the pilot has been leaked all over the internet and I got a chance to check it out.  I have to say there's a lot of promise for this show, but there are also some things to worry about.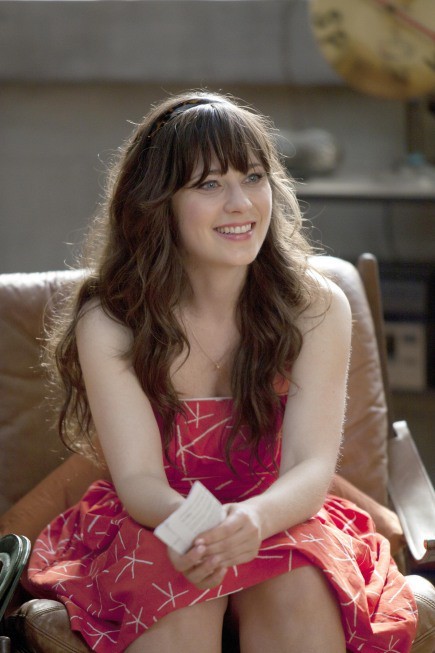 The story follows Jess as she enters a new chapter in her life after moving out of her ex-boyfriend's place.  She finds Nick (Jake Johnson), Schmidt (Max Greenfield), and Coach (Damon Wayans Jr.) on Craig's list and decides to move in with them. 
I have to say that Zooey Deschanel makes this show.  It's hard to say whether I could recommend it without her.  She is so perfect for the role and I can't imagine anyone else playing the part.  She's dorky and quirky but still funny and adorable.  She alone makes the show worth watching and is definitely what gives it a chance to succeed.
As for the supporting cast, there is a little left to be desired.  Jake Johnson does a decent job as Nick, who is also coming off a recent break-up and can relate to Jess's situation.  However, the other two roommates are terribly one-dimensional.  Schimdt is a chauvinistic jerk, and Coach is an intense physical trainer.  Their characters were not really developed much in the pilot, and I'm not sure where they will be going with them in future episodes.
Does the show have legs (except for Zooey's)?  It's hard to say.  I've always felt that a sitcom needs a great supporting cast like How I Met Your Mother or Modern Family to have any longevity.  The show does benefit from an excellent timeslot with a lead in from FOX's big hit "Glee," and I think they are probably going to have a lot of crossover in audience appeal.  Shows often change quite a bit from the pilot to the rest of the season as they find out what works and what doesn't, so it will be interesting to see where "New Girl" goes from here.  Zooey makes it worth keeping an eye on it for now.