Is Lady Gaga Trying To Hide Something With This Crazy Pink & Blue Dress?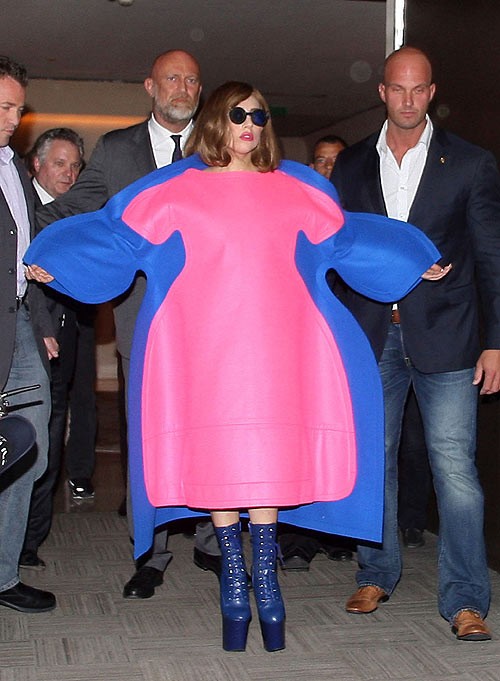 Lady Gaga was spotted in Paris on Saturday leaving the Park Hyatt Paris Vendome Hotel and wearing a very bizarre pink and blue outfit with blue leather platform boots and a pair of glasses with odd-colored lenses.

The "Poker Face" singer has come under scrutiny over her figure lately -- which the pink and blue ensemble conveniently hides -- especially after photos of her from a show in Amsterdam hit the internet and the airwaves, causing many to criticize her obvious weight gain.

Gaga claims she's put on "like, 25 pounds" recently, but she says it's her father's fault, blaming his Italian cooking and the food at his new restaurant. "...I'm telling you I gain five pounds every time I go in there," she says.

But Kelly Osbourne thinks otherwise. While appearing on British comedian Alan Carr's talk show, Kelly said she thinks Gaga is pregnant.

"I think she is pregnant because she has been covering up this part of her body recently and I have been noticing that a lot," she says; "and her style has changed and you can't bleach your hair blonde when you are pregnant."

Another thing you can't do when you're pregnant is smoke pot, which she did -- on stage -- at that recent Amsterdam gig.
It's also probably not a good idea to introduce another foreign object into the body when expecting: tattoo ink. Gaga had a cherub inked into the back of her head just over a week ago during a perfume promotion; chemicals that can't be good for a fetus.
So we're guessing she's not with child.

But Gaga has covered up her midsection a lot over the last few days (see more pics below); and her latest crazy outfit certainly hides any evidence of a baby-bump.

Then again, the dress is pink and blue -- two very popular colors associated with expecting parents.