Is Jennifer Aniston Wearing An Engagement Ring?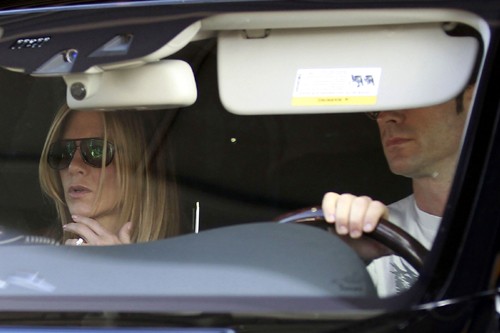 Is Jennifer Aniston finally engaged? While driving with her boyfriend Justin Theroux in New York City yesterday the actress flashed a large gem on her ring finger that could be an engagement ring.
This isn't the first time Jen has worn jewelry on her ring finger. Last summer she appeared on the "Daily Show With Jon Stewart" wearing a gold ring in the sacred spot.
The star is continually plagued by gossip about marriage, kids, and her ex-husband Brad Pitt.
Last month she addressed rumors that she was pregnant. She told GQ, ""I'm not having triplets. Not having twins. Nor am I having one baby. I did not elope...You heard it here. I'm not knocked up now."
Jen and Justin have been together since May. They met while making the film "Wanderlust."