Is Jennifer Aniston Finally Pregnant?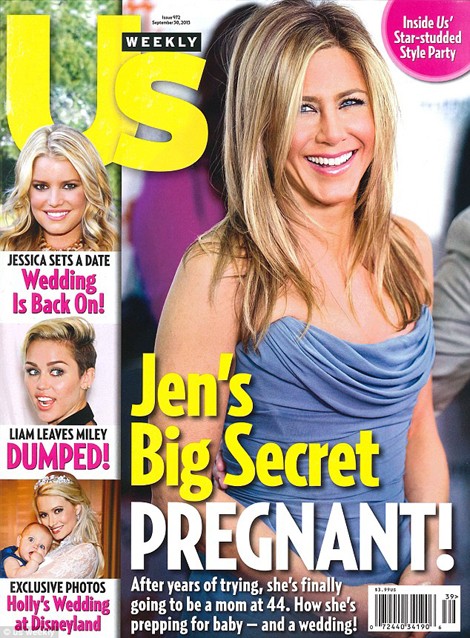 It appears that Jennifer Aniston is finally pregnant. Or not. In its latest issue, Us Weekly claims that the actress is definitely expecting even though her rep denies the story.
According to the magazine, Aniston, 44, and her fiance Justin Theroux, 42, have been hiding the fact that she is expecting, which includes strategically loose clothing.
A source claims "she's thrilled" and the couple is "extremely happy" with the impending arrival.
Aniston has been busy promoting her films "We're the Millers" and "Life Of Crime" and hasn't really exhibited a baby bump. But perhaps she's in the early stages of pregnancy? Either that or the rumors are just that. The actress has been plagued by baby gossip for years.
In early August she wore an unflattering dress to the "We're The Millers" premiere that started tongues wagging - she later said she just gained a few pounds.
In Touch magazine also claimed Aniston began in-vitro fertilization treatments and wants to be pregnant "by her 45th birthday" in February.
The actress has expressed interest in the past about being a mom. And if Halle Berry can get pregnant at 47, there's still hope!
Aniston on Sept. 19 in Toronto, Canada: