Is Charlie Sheen Just Playing a Game With us? That Could be why he's Winning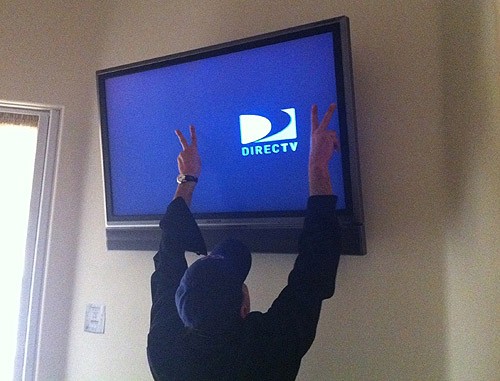 Eat your heart out Lady Gaga, Justin Bieber and Ashton Kutcher - (former) Two And A Half Men star Charlie Sheen hit the million follower mark a mere day after starting his page on Twitter. The reached the milestone within 26 hours of starting his account - a record for the social networking site.
But despite all the crazy lately, it seems that Charlie knows what he's doing, and has know it all along - especially when it comes to generating buzz.
A new story from The Hollywood Reporter says that the star sought out Ad.ly, a company that pays celebrities to make endorsements for such brand names as Sony, Microsoft and Lionsgate Films. Celebs make posts on their Twitter and Facebook pages and get paid upwards of thousands of dollars for a single post. So those of you who think Charlie joined Twitter to share his long, strange trip on the downward spiral for your amusement - you're dead wrong.
It's no secret that Kim Kardashian ges paid thousands of dollars a day for her Tweets - she works with Ad.ly, too, and is one of roughly 1,000 celebrities who have partnered with the company. No wonder Paris Hilton lets the Twitterverse know when she's going to bed, wishing everyone "Tweet dreams" almost nightly.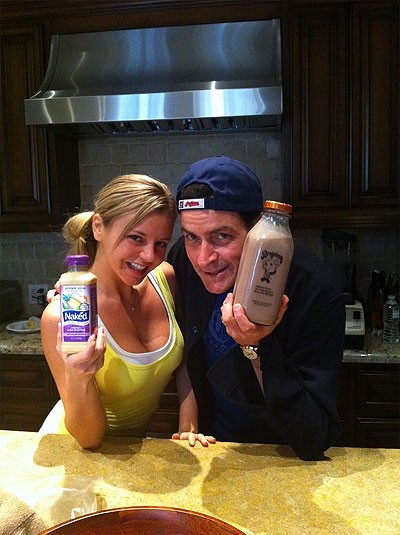 Ad.ly reportedly spent hours teaching Charlie how to start winning; and company CEO Arnie Gullov-Singh explained to THR that the million plus users the star has amassed should be proof enough to convince big-name advertisers like Sony, Microsoft and Lionsgate Films to look past his recent antics and "embrace" his marketability.
After all, this is Hollywood's beloved bad-boy we're talking about - the public has always loved him and has always gotten past his human flaws. Why? Because he's not ashamed to admit it. Charlie's name was right at the top of 'Hollywood Madam' Heidi Fleiss' "little black book" of celebrity clients back in 1995. He admitted it, though, and the public forgave him.
He dated porn stars throughout the 90s - when it was taboo, before celebrity sex tapes were born and adult entertainment started entering the mainstream - but people were okay with that.  He OD'd on cocaine and went to rehab. Fine. He shot his fiance at the time, actress Kelly Preston, in the arm (okay, that one was an accident). The public still loved him.
But could some of his recent public meltdown have been carefully thought out and planned? After all, the guy's an actor - and a damn good one at that (Platoon, Wall Street).
Could "winning" just be a simple catchphrase he came up with to generate some viral buzz and get people on his side after his recent war of words with Two and a Half Men creator Chuck Lorre? Does he just want to keep his name in the news? Is Charlie Sheen the new Brett Favre?
Charlie calls Ad.ly "a cash cow," and since he's out of work now he's going to need one. But despite what appear to be nothing more than financial gain for his sudden appearance on Twitter, he is grateful. He Tweeted: "In all sincerity... Thank you Twitter community for the warm reception & the followers that helped get me to 1M (million) in 24 hours!!!"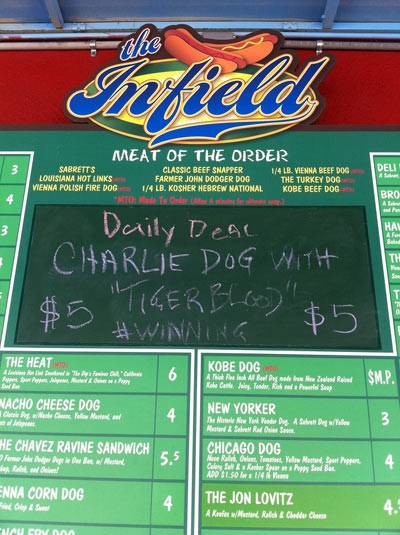 But it's not just the big companies that will benefit from Sheen's addition to the 140 character club - some local companies are sure to get a boost as well. Sherman Oaks, CA's hot dog joint 'The Infield' is now selling "Charlie Dogs" for $5 each after the man himself stopped in for a couple, including their Chicago-style dog (tomatoes, onions, chili peppers, pickles, relish & mustard on a sesame seed bun), which the actor found 'needed something.' Sheen asked for some hot sauce to add to his dog and they handed him their bottle of Sriracha - a delicious (plug) spicy Thai chili pepper sauce that the folks working at The Infield refer to, wait for it - The Tiger Blood.
Could Charlie's love of the hot sauce be another clue in his recent Sheenanigans? Is this the reason he's saying he's got 'tiger blood' all the time?
KABC-TV Los Angeles reports that Charlie even added his dog to the shop's specials list himself; and that since  joining Twitter business has been fantastic. What's even more interesting is that Rick Ortiz, the manager of The Infield, says that women are the the biggest fans of the dog; and they've created a side dish to go along with "The Charlie Dog with Tiger Blood" - deep fried Twinkies called "The Goddesses."
Of course, there's no explanation (yet) for Charlie's other new catchphrases: warlock, Adonis DNA and his latest Twitter hash tag "#planbetter."
Charlie announced earlier today on Access Hollywood that he'll be heading to Haiti next week with Sean Penn to help boost publicity for Penn's Haitian relief effort in the wake of last year's earthquake; saying,  "I'm excited as hell because if I can bring the attention of the world down there then clearly the tsunami keeps crashing."
Tsunami. Yet another catchphrase.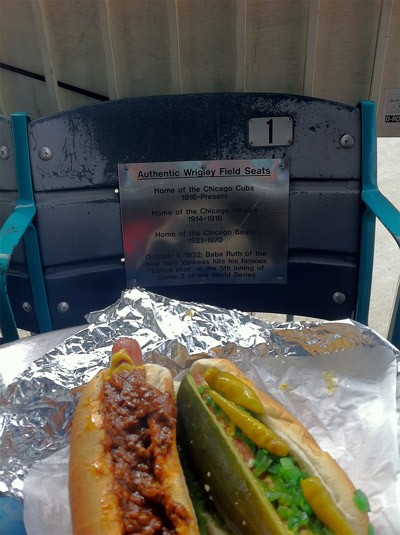 Click for more great Charlie Sheen pictures: