Is 'Britain's Got Talent' Contestant Jonathan Antoine The Next Susan Boyle? (Video)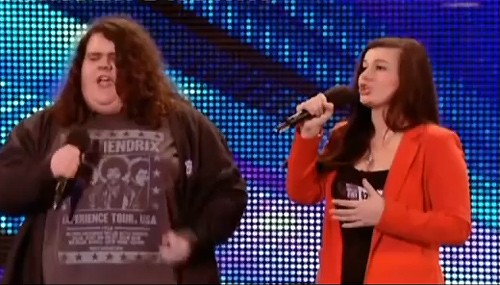 Friends and vocal school classmates Charlotte Jaconelli, 16, and Jonathan Antoine, 17, stunned the audience this weekend after singing an opera song for "Britain's Got Talent."  The weight conscious Jonathan admitted to being self-conscious and needing his pal by his side to boost his confidence.
"You are unbelievable," Simon Cowell told Jonathan after they finished their number. He added, "You are a future star."
Jonathan has drawn comparisons to Susan Boyle and has even earned the nickname "SuBoy."

Although Charlotte got less praise from the judges (Cowell, Carmen Electra, David Walliams and Alesha Dixon), Jonathan said he would only move on in the competition if they did it as a team.  The duo passed through to the next round despite Cowell's reservations about Charlotte.

This could be a life changing moment for the teen. Check out the video below:
*UPDATE* - our apologies, the video's copyright holder won't allow embedding on other sites so you'll have to watch it on YouTube's main site - definitely click below and watch it though!