'Iron Man 2' Premiere Pics: Gwyneth Paltrow's Short Shorts & Robert Downey Jr.'s Red Sunglasses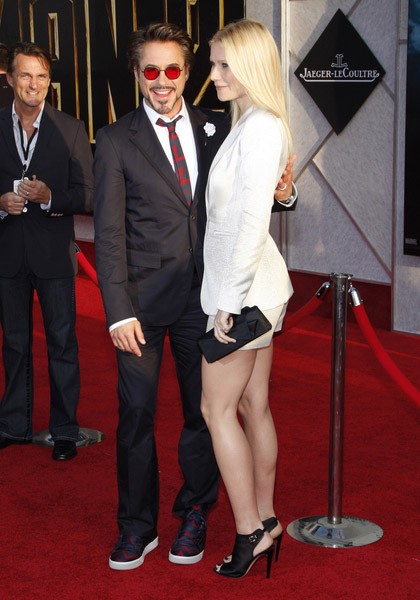 The stars came out in Hollywood last night for the "Iron Man 2" premiere at the El Capitan Theater.  Robert Downey Jr. walked the red carpet wearing funky red and blue sneakers and red sunglasses. Gwyneth Paltrow strutted her stuff wearing a low-cut blazer with matching short shorts.
In the film, Downey Jr. returns as Tony Stark, the wealthy playboy whose exploits as Iron Man are now public knowledge after his admission at the close of the first film. In the follow-up, Stark is pitted against his Russian arch nemesis, Whiplash (Mickey Rourke), and corporate rival Justin Hammer (Sam Rockwell). Also making their Marvel debuts are Scarlett Johansson as the sexy Russian spy Black Widow, and Don Cheadle, who takes over the role of Colonel James Rhodes from Terrence Howard. 
Want some scoop about the film? Check out Gwyneth's Goop.com website for some secrets. "The Goop newsletter will be about my 'Iron Man' training regimen and how I lost weight and got in shape to play this part," Paltrow told a press conference last week in Beverly Hills. "So you can check it out."
CHECK OUT HOT PHOTOS OF SCARLETT JOHANSSON FROM THE PREMIERE!