Irina Shayk Poses Topless To Show Support For Kidnapped Nigerian Schoolgirls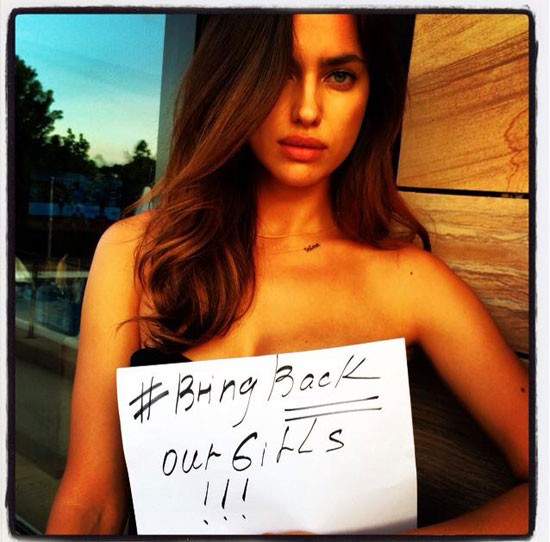 Russian supermodel Irina Shayk has shown her support for the return of the Nigerian schoolgirls kidnapped by Islamist militants by posting a photo on Facebook in which she appears topless.
The teens were taken from a school in northern Nigeria by members of the Boko Haram extremist group in April.
A slew of famous women have backed a campaign to save the young women, including First Lady Michelle Obama, former secretary of state Hillary Clinton, and actresses Anne Hathaway and Angelina Jolie.
 
The campaign, called #BringBackOurGirls, encourages supporters to post a photo of themselves holding up a sign with the hashtag. Shayk's sign is controversial because she doesn't appear to be wearing any clothing.
One Facebook commenter wrote: "This is utterly distasteful, IGNORANT, vile and egregious. Stop your self pandering. Using a cause as horrible as the kidnapping of these poor girls and making it about you is messed up. It's shameless. How about using some of your modeling money and donate it to one of these organizations working to free these girls?"
Another countered: "Irina has used her trademark to join a noble cause movement. I am certain that she meant to genuinely help the plea."
What do you think - were Irina's tactics tasteless?