Investigating 'Law & Order: SVU' Star Danny Pino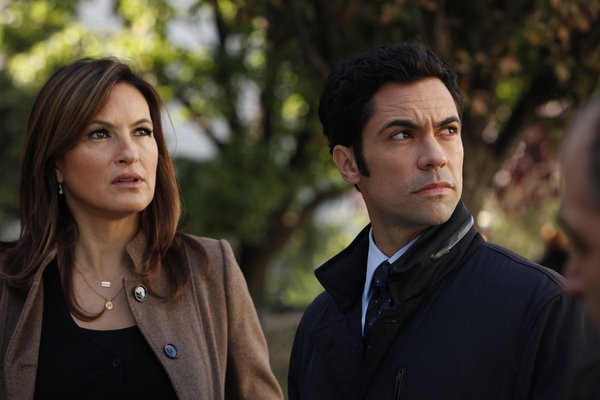 For any actor, being a regular on a Law & Order show is a huge opportunity; one only has to ask Meloni and co-star Mariska Hargitay about the popularity they came into after signing on way back in 1999. Yet having treaded similar ground before, Pino knows exactly what to do with the chance. We've only seen twelve of this season's twenty-two episodes, and Amaro already feels like he's been around a lot longer than he has. That's thanks to an actor with deserved confidence in himself and his abilities.
He also has some experience many actors don't: he's written for television. During his run on Cold Case, Pino earned co-writing credits on two episodes (season 6's "Stealing Home" and season 7's "Metamorphosis"). To have an actor who knows exactly what you're going through is a blessing to any writer, and Pino tells me it's also helped him in front of the camera.
"Without a doubt," he says. "To take a look behind the curtain, you immediately get an idea as to structure, story development, the fundamentals of how a script is put together. When you're around the writers, who day in and day out are pitching stories and plots, you can't help but feed off of that. Especially when you're in a room with the writers who worked on Cold Case, who are in my opinion the best of the best, and you go to SVU and they've got writers who match those writers. It can't help but make you a better actor."
He's my favorite kind of actor to work with: the one who gets just as involved in the development of the character as I do. When I finish a script and hand it to the person who's going to bring it to life, I'm wanting someone who's a partner, who will contribute to and possibly even improve upon what I've started. I can't help but smile when we talk about character development and I can hear the interest in his voice.
"There's hundreds of ideas," he tells me. "Synapses start to pop when I read a script. I think, "Oh, this is fantastic, and then what?" I feel like I have a sounding board in Warren Leight. Sometimes I've been part of processes where there really is no avenue to voice what ifs, and I feel like Law & Order is definitely a place where the actors are taken seriously. They're taken as members of the creative process. Largely, what you see on screen is what I've contributed to Nick."
"I'm always chasing roles that make me nervous," he explains when I ask him what he looks for. "It's always the role like, I wonder if I can pull this off. I just played a police officer, so how do I play one different? What would be compelling about that? That was a challenge. There's not one specific role that jumps out at me, but it's always the challenge to play something new."
Those who know him best for carrying a badge might be surprised at the versatility of Pino's resume. Even he has a hard time pinning down a favorite. "Playing Desi [Arnaz in the 2003 TV-movie Lucy] was definitely a highlight for me. For people who like twists and mystery, Cold Case and Law & Order. The people who like watching something much darker, The Shield is definitely an avenue, and a film I did called Across The Hall."