Investigating 'Law & Order: SVU' Star Danny Pino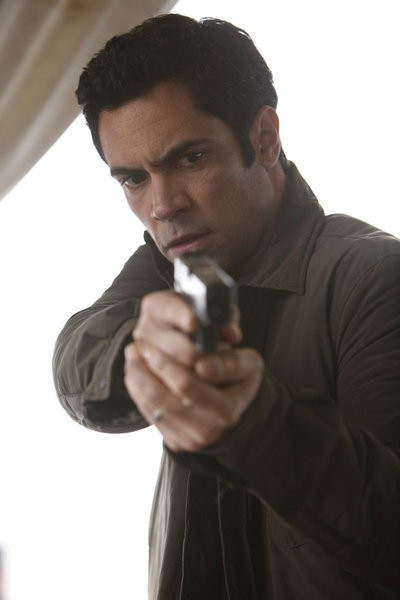 Law & Order: SVU fans: you landed the best detective working in television.
After seven seasons as a major part of what made Cold Case a cult hit (one that's still talked about two years after its cancellation), Danny Pino has revitalized SVU in its thirteenth season. If anyone could fill the major void left by the departure of series star Christopher Meloni, it was Pino, who created a memorable character of his own in Cold Case's smart and often smart-mouthed Scotty Valens (and stepped in to replace a character on that series as well; current Grey's Anatomy star Justin Chambers had his job for the first six episodes).
He was the only Cold Case member to win an award for his acting, when he took home an ALMA Award for Best Television Actor in 2008. Yet the real proof is in talking to fans of the show, who watched him work every week. Every Wednesday - ironically right before new episodes of Law & Order: SVU - my friends and I get together to watch three hours of syndicated Cold Case reruns. As much as we enjoy the entire ensemble, we always end up talking about how much we loved Scotty.
That's because in seven years, Pino did just about everything you could ask an actor to do - whether it was saving the life of his partner Lilly Rush (an also underappreciated Kathryn Morris), dealing with the apparent suicide of his schizophrenic girlfriend Elisa (Marisol Nichols), or having a previous undercover stint bite him in the here and now ("Sanctuary"). With Scotty, he created someone who was a talented cop, but was also a very real human being, and we embraced him because he felt like someone we knew.
Even now, I find myself talking about him that way, making a joke that Scotty needed a girlfriend who wasn't his partner's sister or crazy. "I think Kathryn Morris said that too," Pino replies with a laugh. He completely understands my love of the character, because he shares it.
When it was announced that Pino was joining the cast of SVU this season, the buzz was instantaneous. We tuned back into a series that we hadn't watched regularly in a long time, and we weren't the only ones. My colleague Aryeh Shudofsky at CliqueClack told me that he thought Pino's addition "revitalized" the show. But after seven years, why would Pino want to return to TV playing another detective?
"I originally resisted going back into a procedural. It was definitely not something that coming right off of Cold Case I was trying to do," Pino tells me when we connect for a conversation. "But I think Law & Order is not just your common regular procedural. Certainly SVU isn't. It has such a storied history with incredible actors. I really felt it was an opportunity that I could not pass up."
On SVU, Pino plays Detective Nick Amaro, who's already seen threats made against his family ("Official Story") and punched out a rape suspect ("Double Strands"). He completely understands if this gives Cold Case fans a little bit of deja vu.
"You watch Law & Order for five minutes, you realize, 'Where are the flashbacks? Where's the music?'" he says, laughing again before he explains. "Law & Order scripts have a lot of the things that made Cold Case incredibly compelling. I think it sticks to the closest to what real police officers and attorneys have to deal with. Cold Case certainly was, that was its foundation, but through the use of music and time and the flashbacks, it was much more artistic. It felt much more cinematic.
 "Myself and [SVU showrunner Warren [Leight], we got on the phone several times and discussed what it was he envisioned in the character and what I would want to play. Being on Cold Case for seven seasons, we explored quite a bit. I think we found some interesting differences between Valens and Amaro, in making him essentially a single dad. One of the big differences between the two is I think Scotty was much more tightly wound. He was much more quick to violence. To lose his patience. He had a shorter fuse than Nick does. Nick is much more of a con man.  He's more manipulative. He'll become whatever a person needs in the interrogation room to get to what they need."