Interview/Review: 'The Perfect Host' Director Nick Tomnay Talks...And Keeps Secrets!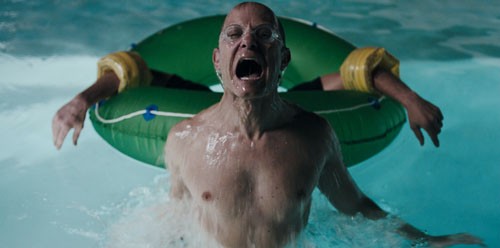 Ever see a film you wanted to tell friends every cool and calculated detail about?  This is that movie – and we're not saying a word!  The latest from the diverse film selecting folks over at Magnolia Pictures is a fun, humorous, dark, and all out impressive little ditty with a ton of twists and turns called "The Perfect Host" and features impressive stand out work by leading man David Hyde Pierce.  We're celebrating the upcoming July 1 release of the film with both a Q&A with writer/director Nick Tomnay and full review that both give the cool info with the least amount of detail possible.  (We're trying to keep the surprises in the film…a surprise!)  So for some vague but compelling Host chat, here's…   
DIRECTOR NICK TOMNAY!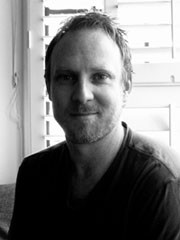 Great flick sir, but it's a really hard flick to discuss!
Nick Tomnay: I know!
So where did the story for "The Perfect Host" come from?
NT: It was initially a short film that I made in Australia and it was a twenty-five minute short that did quite well and won some awards.  People at the end would turn to me and go, 'Now what happens?'  I wanted to keep going and it also got me some attention over here in the states, so those two things combined were what made me set out to make a feature film.  It's a mixture of an anecdote that I'd heard happened to a friend of mine, also some mixed feelings I was having at the time about loneliness and on top of that there's also obviously black humor that I thought would play quite well in the situation.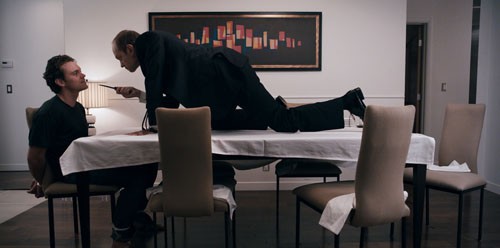 With so many interesting twists and turns to the story, when you came here to pitch it how did you describe it?
NT: The thing that I would say was I would just set it up – it's the story of a criminal on the run and he cons his way into an affluent man's house, but the affluent man ends up being more dangerous then the criminal.  My logline!  But I think having the short film that was the best thing I could have had.  Because that had the tone of it, had the characters, and some of the visual style I wanted to use with the feature, so by having the short it was a concrete way of describing what I wanted to do. 
David Hyde Pierce gives a flawless performance – did you have him in mind and how did he eventually become involved?
NT: Well, I wasn't writing for anyone specifically, I was just writing the character of Warwick who had evolved from writing and making the short.  I think when we were thinking about actors for the feature we drew up a list of people that we thought could do – David was on the list.  We sent David the script and the short and he really responded to both of them.  And we met for lunch and talked about stuff and he pretty much committed at the end of that lunch – casting David was the simplest part of making the entire movie.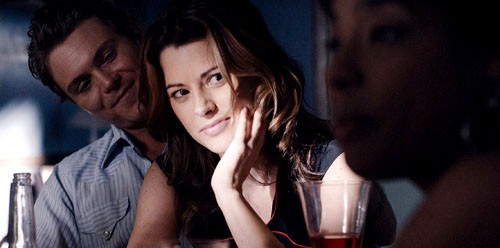 Also actress Megahn Perry who played Simone brought a very ethereal quality to her role as the girl in Clayne Crawford's life.  Can you talk about how you came to cast her?
NT: We had a table read with about eight women for that role and I just intuitively knew she was the right person.  She's a good actor, but I felt that there was something about the pairing of her and Clayne's character that was slightly off and that was essential.   
I loved the great use of a single space – what were some of the logistical challenges for you?
As a visual storyteller that was primarily one of my main concerns was trying to keep the environment fresh and not repetitive.  So once the location was locked up I had a floor plan drawn up and I blocked every scene with the floor plan with the camera and the actors to figure out how I wanted to orchestrate it.
So what's next for you?
I'm working on a thriller and it's a fish out of water story.  There's definitely gonna be some interesting stuff in it – a little bit more visceral. 
You got the facts folks (or as much as we're prepared to say!) now read the review!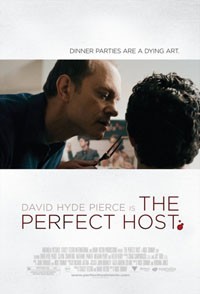 Title: "The Perfect Host"
   Stars: 4
   Genre: Action, Drama, Psychological Thriller
   Cast: David Hyde Pierce, Clayne Crawford, Megahn Perry
   Director: Nick Tomnay
   Running Time: 93 minutes
   Rating: R
   Release Company: Magnolia Pictures Release
   Website: http://www.perfecthostmovie.com/
"The Perfect Host" is a film that thrives and survives on its barrage of twists and turns that happen very early on in the story.  So consequently it's a hard film to discuss because even the slightest plot drop can unravel a nicely knotted surprise that is meant to be experienced not read.  But there are so many wonderful elements within The Perfect Host that most critics would use to drive their points of genius home – so I promise to tread lightly.
The film begins with career criminal John Taylor (Clayne Crawford) running from the scene of a robbery with the fuzz starting to close in.  In an attempt to escape he heads into a local wealthy neighborhood and begins to knock on doors in hopes of gaining access and eluding the authorities.  He soon comes upon a house with mailbox that has a postcard from a gal from out of town and he uses the info to pose as a friend of the overseas woman.  The occupant of the house and recipient of the postcard is one Warwick Wilson and he's preparing a dinner party.  He invites the young man in for a drink and….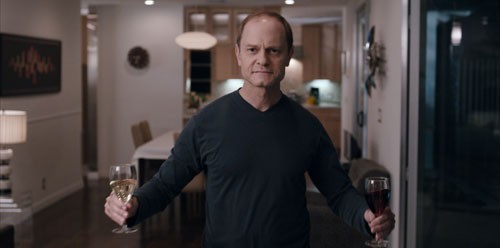 That's where the film description stops and experiencing the film should begin.  What goes on during said dinner party between the seemingly badass intruder, refined perfect host and various quirky party guests is a thing of humor, fun and darkness all rolled up into one scathingly unpredictable night.  It's all due to a script that relishes in taking it's time with all askew reveals and keeping an eager audience guessing.  (Plus Director Nick Tomnay is a master of using a single space effectively here!)  I would be remiss not to mention that the film does also feature an amazing tour-de-fore performance by David Hyde Pierce as the enigma Warwick.  Going from happy to sad to intense to even joyous (the "Car Wash" dance number is show stopping!), Pierce takes full advantage of all his film character has to offer and doesn't waste a single celluloid frame.  (And I also dug the sweet, earthy and not-what-it-seems work by gal Megahn Perry as…nuff said!)
I know being vague isn't always cool, but in this case its done out of respect for stellar work.  Do you like when trailers keep you in suspense, ads tantalize and reviews keep the best stuff under wraps?  Welcome to your party of the year. 
__________________________________________________________________________________________________________________________________ 
"The Perfect Host" hits select theaters on July 1 from Magnolia Pictures Releasing.