Interview/Review: Linda Cardellini On Researching 'Return', Michael Shannon And Being A First-Time Mom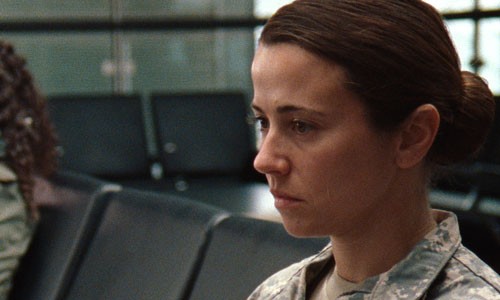 Diversity has never been a problem for actress Linda Cardellini.  From her early work playing a curious teen in Judd Apatow's cult TV show "Freaks and Geeks" to doing duty as doctor on the hit series "ER" (and don't forget a little Velma action in the Scooby Doo flicks!), Cardellini has made a career out of keep the audience on their toes.  Her latest project "Return" (in select theaters Feb. 10 from DADA Films Releasing) is no different with Cardellini playing a soldier back from a military tour of duty who has a hard time adjusting back to life with her family and friends.  The film is the work of first-time writer/director Liza Johnson and also stars the great Michael "Shotgun Stories" Shannon and "Mad Men's" John Slattery.  We're celebrating the release of the film (and Cardellini's tour-de-force performance!) with both a review and a one-on-one chat with lovely lead Linda, who talks about the research she did for the role, working with both Johnson and Shannon and even talks a bit about cool past work.  Stand at attention – here's the truly talented...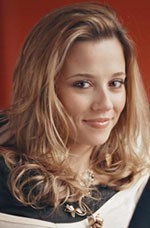 Your character in "Return" feels incredibly authentic – what kind of research did you do to prepare?
Linda Cardellini: I was attached to the movie for over a year or maybe a year and a half before it got made.  We kept trying to get it made and - the nature of truly independent film - that's always a hard thing, so we had the luxury of that time for better or for worse.  So Liza and I got to be really close, we traveled together to her hometown in Ohio where she originally set the film and we met with men and women who had served.  We also visited a psychologist who came out of retirement to devote her time to returning soldiers - counseling them.  We spoke with her for a while and she had some really interesting insight into how people behave and what the common threads are in their stories.  We even did things that are not included in the film, that were never gonna be included in the film like learning how to clean a rifle and a lot of different things my character would have learned in basic training.  Even on set I would read blogs of people that were over there.  There are so many silences – so much unsaid.   
How was it working with first time writer/director Liza Johnson?
LC: Amazing.  When I read the script I thought it was such an amazing part for somebody and I loved the role.  And when I met Liza it went far beyond my expectations, the way she spoke about the role and the way she wanted to shoot.  It was special and Liza is incredibly intelligent.  She has a visual arts background, so the way she shot it was like paintings to me – they were really beautifully set up.  She also has an amazing DP Anne Etheridge who shot and used a lot of natural light and I didn't wear a speck of makeup (laughs) and everything was really close to reality as possible.  It's probably the most I've ever trusted anybody I've worked with.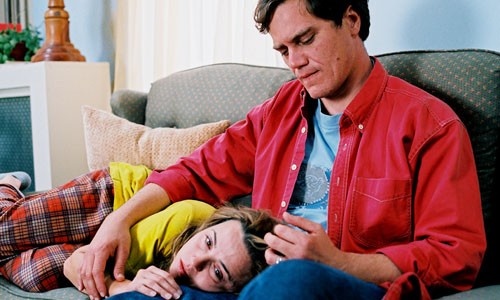 It's interesting how the normally quirky Michael Shannon plays the straight man to your characters' emotional frenzy – was that all by design?
LC: Yeah, I think Michael is capable of anything.  He's a phenomenal actor.  He's capable of so much that people put him in crazy roles a lot because those roles are often times harder.  But I think he's great as a loving and conflicted husband – a normal guy.
What has been the reaction from female soldiers and audiences to the film – anything surprising?
LC: I personally haven't seen the film with much of an American audience – I'm in the last stretch of being pregnant!  So I'm just about to have a baby and I haven't been able to go to any of the screenings they've had recently in the States.  Most of the screenings I've been to have been overseas in film festivals in France, UK, and Germany, but the feedback has been that people have been saying that it really resonated and I hope that's true.
Past work - I also loved your work in the gritty and highly underrated "Kill The Irishman"...
LC: Thank you!
Yeah - what drew you to that project?
LC: I liked that it was a true story.  I'm Irish and Italian and I thought it was fun.  I loved the time period and that it was a true story – it was a fun shoot.  Not very often I get to have hair and makeup too!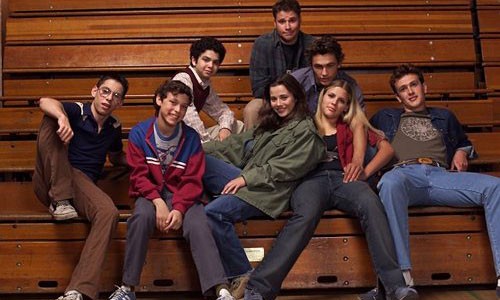 Also, last year you appeared with fellow "Freaks and Geeks" cast members – looking back on that show did you think that all of you would go on to have such huge careers?
LC: No – I don't think you ever know what's going to happen to anybody in this business.  That was a really special group of people.  We were all really young and pretty green at that time.  But we all had really strong work ethics, which I think was unusual for kids so young – there were some kids on the show who were thirteen and fourteen.  I think it was just a really interesting group of people and it's been interesting to see what people have gone on to do.
With so many interesting and diverse roles for you, especially "Return," what are you gonna tackle next?
LC: I don't know.  I've been writing some, but I'm concentrating on being a first time mother, which is the biggest job I've had so far!  So that's coming up next!
Check out the review below!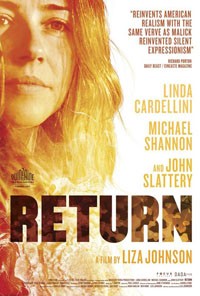 Title: "Return"
Stars: 4
Genre: Drama
Cast: Linda Cardellini, Michael Shannon, John Slattery
Director: Liza Johnson
Rating: R
Running Time: 98 Minutes
Release Company: DADA Films
Website: http://return-film.com/
A sense of authenticity can sometimes be both a blessing and a curse in film.  As used in "Return," a film about a weary gal who comes home from a military tour of duty forever changed, there's a unique and looming sense of dread that engrosses, but the dark subject matter might not be everyone's cup of tea.
Linda Cardellini stars as Kelli, a woman back from hard military service who tries to re-assimilate back into her small town life and family.  But over time she finds herself detaching from the things she formerly loved, starts becoming unglued and eventually goes into deep depression and despair.  She does find temporary solace in both a local support group and one of the male members, but it's all filler for the darkness ever present inside her.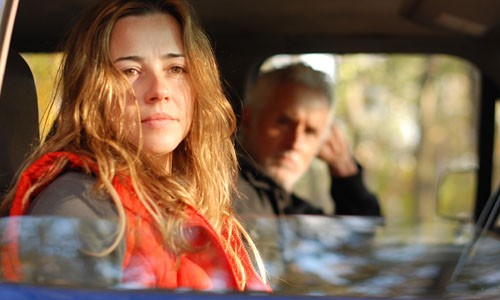 The above description sounds a tad morose, but "Return" thankfully doesn't pull punches.  There's desperation in Cardellini's character that slowly permeates throughout the film and never lets up until the final frame.  In fact, it's Cardellini's work here that's the star of "Return."  In one impressive slowly spiraling downward performance, Cardellini doesn't waste a moment or subtle nuance in creating a woman who has become a shell of her formal self – it's griping stuff.  She even manages to outdo the always-solid Michael "Shotgun Stories" Shannon, who this time around plays the straight man to her conflicted gal.  Plus Director Liza Johnson wisely doesn't try to take on all things about the war and it's harrowing effects, but instead focuses on Cardellini as her moody muse and it's a home run.
Again, "Return" is not an upbeat film with answers to the ongoing problems of the war, but instead simply displays all the angst for all to see and on that level it's one effective flick.  Rampant realism mixed with the brilliance of Cardellini at her best gives "Return" an impacting immediacy not to be ignored.
"RETURN" OPENS FEB. 10 IN SELECT THEATERS FROM DADA FILMS RELEASING.