Interviewing 'Haven''s Emily Rose At NYCC 2013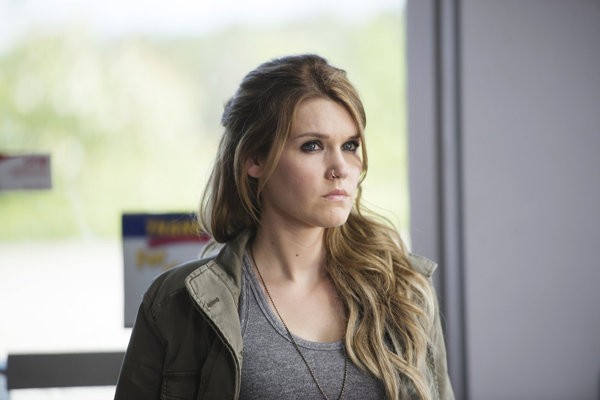 During New York Comic Con 2013, I interviewed actress Emily Rose, star of the SyFy network's 'Haven' for an early Friday morning breakfast.
If you've never watched 'Haven' before, start. Seriously, start. Now. Its fourth season just kicked off. You can catch up. 'Haven,' based upon the well-crafted Stephen King short story 'Colorado Kid,' surrounds a female character who consistently saves supernaturally-afflicted, 'troubled' residents of a small New England town called Haven. While season one started rough, 'Haven' quickly became one of my favorite television shows where each season delves deeper into the mythology of the town and the lead character, Audrey. Although Audrey started as the fish-out-of-water FBI character passing through town to help the local police, we soon discover that every couple decades she visits the area, fosters relationships, and falls in love. After solving the community's problems, she disappears before re-appearing years later when the troubles return. While she might sport a different hair color and a different name, she always remains the same person dedicated to saving troubled residents.
Last season featured a cluster-fark of questions such as who is Audrey, really? Why is she the only one who can save 'troubled' residents? There's an underlying theme in Greek mythology surrounding female sacrifice which 'Haven' now intertwines into its narrative. In the season finale, Audrey's friends/lovers/colleagues, Duke and Nathan, attempt to end the curse and prevent Audrey's twenty year absence. However, instead of ending the curse, in season four, we learn that the troubles grew worse. Instead of keeping Audrey as is, she disappears and returns in a new personality, the sassy bartender Lexie. Although I interviewed Adam Copeland at last April's SyFy upfronts immediately after the finale, I had more questions for Emily Rose after this Fall's season premiere.
Having conducted phone and conference call interviews with Emily as well as NYCC press room roundtables, my impression always remains the same. Emily Rose is a consummate professional. Back in the days when I did the PA Ren Faire, we had an excellent lead actress who patiently did 5am interviews. Despite rarely seeing her family between rehearsals and weekend shows, she never showed any sign of stress. That's the continuing sentiment I feel whenever I interview Emily. At 9:15 am on a Friday morning, no doubt, she'd prefer to spend time with her family, instead she patiently handled every single one of my fan questions. Below find a quick summary of the main highlights.
Audrey's Strength
Thanks to the 1990sh, particularly 'Buffy, ''Xena,' 'Cleopatra 2020' and 'Queen of Swords,' we no longer see overtly sexualized, helpless heroines. All the same, having grown up with the 1970s and 1980s damsels, I squeal whenever I see a female-led TV show. My interest in 'Haven' stems from casting Emily Rose at the center of its Duke-Nathan-Audrey triangle while making her character one who saves people and not vice versa. Emily discussed the recurring core strength in her characters. Audrey, through her various temporal incarnations including 1950s Sarah's "Rosie the Riveter," remains the same. Despite the name change, job change and hair change, Emily stated "the core of her is always there is always the same." She views Lexie as a "fresh" take and admits we finally see the reason for the Teagues' season one avoidance. In fact, the original short story surrounded a young woman new to a small New England town where everyone, including her newspaper bosses and the waitress, had unspoken roles for how they handled each other and outsiders. They never shared those details with her, yet expected her to catch on. We saw that in season one with Audrey and we see it again now in season four with Lexie. While Emily wouldn't hint whether we see "Lexie" coalesce with "Audrey" this season, she admits she missed playing the tomboyish FBI agent.
While I wondered if the writers based Lexie on Emily's 'Two and a Half Men' bartender/waitress romanced equally by Charlie and Jake, she doesn't think so. Maybe Lexie's a throwback to the original waitress in King's story. However, for character preparation, Emily pulled from a sassy, nose ring-wearing waitress character she played when filming 'Smith,' a pilot with a pre-'Mentalist' Simon Baker and Ray Liotta.
Last Season's Hook-Up
The one thing that bothered me about last season included Nathan's one night stand with Rosie without telling Audrey when he returned to the present day. Listen between the 7:30 and 8 minute mark to hear her call Nathan a "Shady Buster." She admits there's the larger picture where Nathan didn't "know he was coming back" but admits from a "female point of view" that it's a creepy "Pandora's box" that Audrey would need to "compartmentalize."
Season Four Hints
What else happens this year? We probably won't see Audrey's son or daughter-in-law return because they co-star in the new show, 'Bitten.' While 'Haven' already wrapped its fourth season, in the finale Emily promises a "really good" episode where you see the"dark underbelly." Will we get a season five? Hopefully, yes. But, she feels "grateful" for achieving season four and encourages fans to tune in the day of to watch episodes and show their social media support. But, the writers know "for sure" how they want it to end. During the 18 to 22 minute mark, she detailed this season's awesome guest stars including 'Eureka''s Colin Ferguson, the new almost-Agent Howard, who will feature heavily in the later episodes and is "scary" to her character in a "different level." She feels Colin does a "great job" playing William's "intricacies," but doesn't think of him as a guest star because they hung out at various SyFy promos and she always wanted to work with him.
When I call Emily Rose the consummate professional, she is. She's the type of actress you can hinge a hit show upon. She's the actress who easily balances family, work and publicity with nary a hitch. She's the type of actress who will patiently spend 20+ minutes describing her love for her show with an awkward interviewer before 10am. We actually hit the perfect interview stopping point at 15 minutes. Unfortunately, the waiter hadn't yet brought my coffee or her eggs. So, I continued the interview for 12 more minutes until my coffee/her food arrived. In hindsight, I realized I could've just stopped the interview or requested the waiter bring the food earlier/wrap it up. But, I am not a lead actress and my mind doesn't work with a 6am call time. So, I am seriously grateful to her PR rep for checking on proceedings. But, through it all, she remained a core professional. In the days of Lindsay Lohan and actresses who don't understand craft dedication, it's a treat to meet someone who understands that and believes in her project. I encourage all of you to check out her Hallmark Thanksgiving movie coming out November 2nd with Lindsay Wagner and Bruce Boxleitner. Yes, I know. We like to pretend our ovaries can't handle it. But, we all know we're going to watch. So, forget the pretense. Just own up and watch it.
But, even better, nominate 'Haven' for a People's Choice award by October 31st. It's about time someone recognizes the show for its amazing writing and acting. When you aren't watching 'Haven' every Friday night at 10/9 central on the SyFy channel, follow 'Haven' on Facebook, https://www.facebook.com/haven; tweet at #DiscoverHaven; scan Haven''s SyFy site, http://www.syfy.com/haven/, and discover Emily Rose on Twitter at https://twitter.com/EmilyroseLA. You can catch old episodes on Hulu or Netflix.
For the audio interview listen below or here: http://youtu.be/SIhoWvQdGhI