Interviewing CW's 'Reign' Cast And Executive Producer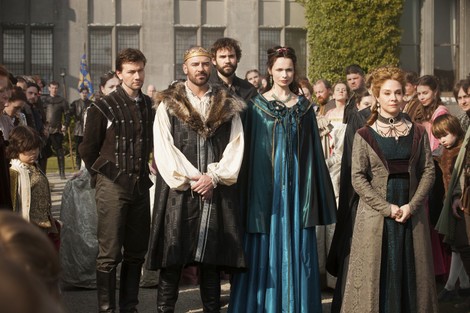 During New York Comic Con, I interviewed the executive producer and cast of CW's new show, 'Reign', which surrounds Mary Stuart (Adelaide Kane), Queen of Scots, and her adolescent ascent to power. As a former ren faire performer, I squeed when I heard about the TV show. But, I also feared they might lean towards a fantasy-oriented interpretation. Despite giving Mary's French consort, Francis (Toby Regbo), a fictional brother, Bash (Torrance Coombs), and adding gothic elements, Executive Producer Laurie McCarthy promised she'd follow the historical path. I'll be honest. As a kid I was obsessed with Bloody Mary. As an adult woman, I find myself increasingly fascinated with Queen Elizabeth. However, Mary, Queen of Scots, never garnered my attention. I always viewed her as the more boring of the female Stuarts. However, when I asked her why Laurie chose Mary, as opposed to the more well-known Stuart women, Laurie mentioned Mary's multiple husbands which made her "sexier." Considering Mary's two-year marriage to the short-lived Francis; her short marriage to the equally short-lived Henry; and her even shorter marriage to James Hepburn, who possibly killed husband number two, I understand the attraction. Also, considering she plotted to kill Queen Elizabeth, there's a total devious side waiting for exploration.
Exploring Mary
I wondered how the 'Reign' production staff would balance a historical figure with so much occurring in a concentrated time span. The 'Tudors' did an excellent job spanning multiple marriages within four seasons. But, with network television, it's difficult to know how to handle pacing, especially with the continuous fear of cancellation and impatient audiences. However, Laurie stated she wouldn't hold anything back. Adelaide Kane shares Laurie's excitement in playing the historical queen and is utterly giddy like a newborn baby over the amazing sets and costumes. Because I'm a rampant anglophile, I not only re-enact it as a performer, I watch TV shows that show other people re-enacting it. At the ren faires I performed at, we not only used period eating utensils; during the summer, non-professional actors didn't have air conditioned access. 12 hours a day we spoke the period language and used period mannerisms concerning gender/class. There's a 2007 British TV show called 'The Supersizers' where comedian Sue Perkins and food critic Giles Coren literally spend weeks living the Edwardian, Elizabethan, Victorian, Restoration and Regency periods through clothing, food and housing. I briefly wondered if the production staff forced the cast to do something similar to acclimate them to the period. Adelaide promised me that they did not in the slightest.
Exploring Mary's Lovers
For a historical character with so many torrid lovers, it utterly makes sense the production staff would surround the lead heroine with the prettiest most alluring male actors possible. With their wide eyes, luminous pale skin and matching cheeky grins, Toby and Torrance had the looks of two mischievous cherubs. They are literally the adorable Greek god cupid brought to life and split into twins. There exists two Japanese manga, 'Boys Over Flowers' and 'The Wallflower,' which surround ridiculously pretty teenage boys who are as beautiful as gardens. I couldn't envision such people in existence, until I met Torrance and Toby. Honestly, listen to the T-alliteration in their names, if they doesn't hint at fraternal twins separated at birth and reunited through 'Reign,' I don't know what does. Despite the difference in accents, they shared a similar humor. I loved their back and forth joshing relationship where they fed off each other. Toby joked about his character's insane obsession with France conflicting with his burgeoning feelings for Mary. Then he mocked the ongoing Team Francis vs. Team Bash poll, pointing out there's no way his character could compete with Bash's naughty bad boy. Then, together, both proceeded to mock the meaning of 'hunkiness.'
Check out 'Reign' on the CW on Thursdays 9/8 central. Check out interviews below or here: http://youtu.be/v9AYWlpOKgw, http://youtu.be/4jIKGt0KSsw and http://www.youtube.com/watch?v=l6bmKxFFp9s.