Interviewing 'Big Ass Spider''s Greg Grunberg and Clare Kramer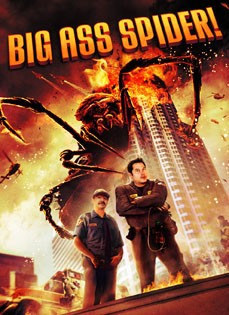 I am in love with 'Big Ass Spider.' I think it's the most awesome B-movie remake ever. If you're a fan of the original 'Blob,' 'Godzilla' and 'King Kong' before 90s screen kings Chuck Russell, Roland Emmerich and Peter Jackson remade them, then you'll love this. If you enjoyed the tongue-in-cheek 1950s referential humor of 1990s cartoons like 'Attack of the Killer Tomatoes' and 'The Tick,' then you'll enjoy 'Big Ass Spider.' Yea, the title speaks cheesiness. And, of course, I thought it would suck. But, I figured with Greg Grunberg attached it couldn't. It didn't. I saw it. I loved it. And, it rocked. I leapt at the opportunity to interview its stars, director and producer at New York Comic Con 2013.
'Big Ass Spider' surrounds nice guy exterminator Alex (Greg Grunberg) whose amorous retired clients pay him in fruitcake. After volunteering to exterminate a local hospital's big ass spider with security guard Jose (Lombardo Boyar), he discovers the big ass spider's a big ass product of accidental government experimentation. The rest of the film surrounds Alex, Jose and government liaison Lieutenant Karly Brant (Clare Kramer) attempting to kill the spider. As you might guess, like the 'Blob,' the big ass spider keeps getting bigger and more dangerous, until it's totally big ass. Want to know the rest? See the film.
I loved the 'Big Ass Spider' press room. It was incredibly casual yet well managed. Rather than the standard no holds barred press table of one star and five press members, 'Big Ass Spider' featured two-to-three stars and one press member. Table one featured star Clare Kramer ('Buffy') and director/film editor Mike Mendez. Table two held stars Lombardo and Greg. Producer Shaked Berenson floated between tables.
Table One: Director Mike Mendez, Star Clare Kramer and Producer Shaked Berenson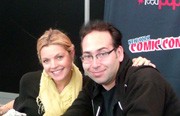 What I love about this table (and the entire room) included its ability make everyone feel at home immediately. When I arrived at the table, Mike and Shaked held an intense side conversation. Yet I didn't feel ill at ease in the slightest. While waiting, Clare and I struck up a mini conversation after she commented on my hair. Confession time: I have densely textured hair. A couple years ago I stopped straightening it and endured a highly unflattering interim growth process. Of course, Clare who rocks her own natural curls noticed. So, while the guys gabbed, the girls enjoyed a mini-girl nodding head talk about the process.
I loved the script, but I also loved the directing style. It felt inspired by Simon Pegg. Shaked dropped that he wanted a Shaun of the dead feel. I proceeded to fan squeal all over Mendez for capturing the ironic tone without making it a straight up parody. If you've never seen 50s/60s B-films, 70s exploitations/slasher fests, Wes Craven's 80s films or Kevin Williamson's 90s films, you'll still enjoy the ride. I thought Mike spent hours re-watching every single old school horror film, but he candidly admitted he did no research whatsoever. My only concern surrounded the lack of diversity outside Jose. As an African-American I always look for a racially diverse cast that realistically reflects our contemporary society. Although Mike pulled from his talented friend base, he admits having only eight speaking roles total somewhat tied his hands. Having starred in straight-up horror in Mike's 2006 'Gravedancers' and starred as Glory in 'Buffy' I asked her to speak to the differing experience. Also, while her character started off as the anti-horror heroine, towards the end she became the typical damsel in distress. She responded graciously pointing out the medium and her character's arc. 'Big Ass Spider' isn't about the hot Lieutenant who saves the day. It's about a bunch of average guys kicked around by life who somehow manage to get the woman and get recognized for doing what they love. I have to give a mini shout out to Clare's GeekNation.com which launched last year and receives five million hits per month. When you're not reading StarPulse, check it out!
For audio, listen at http://youtu.be/NQCYPXNp7Zw.
Table Two: Star Greg Grunberg, Star Lombardo Boyar and Producer Shaked Berenson
I experienced the same warm welcome at table two with Greg and Lombardo. If you listen to the audio, the first two minutes mark it clearly as a party. Shaked migrated tables with me and offered to take a picture with myself, Greg and Lombardo. I'm not going to lie. I've had a girl crush on Greg since 'Felicity,' which continued to 'Alias,' 'Heroes' and NBC's cancelled 'Love Bites.' He's one of those actors that no matter what role he plays, he always comes across as genuine. Although each role appears a variation of the down-on-his-luck nice guy, each part appears intrinsically different. With that much raw talent, I expected more distance and snootiness. Instead, he was a regular guy sitting there, drinking a beer, while warmly inviting me to sit closer to himself and Lombardo. Let me tell you, you haven't lived until Lombardo calls you 'mama' *major swoon*. Lombardo and Greg have so much natural chemistry as Alex and Jose that I wondered if they rehearsed. I loved their multiple tete-a-tetes and the awesome improv amongst all the actors.
Mike stated that he didn't put the actors through the paces. However, Greg and Lombardo admitted that they did pre-staging prior to filming each scene. While I thought their bromance overwhelmed Clare and Greg's romance, they both loved the Lieutenant-ordinary man love story. Although Jose didn't get the girl, Greg mentioned he always envisioned a sequel/scene where Jose has tons of women/children. For the preview copy I saw, there wasn't a large explosion at the end. Shaked admitted he spent most of his time begging with his overseas graphic designers to make a huge explosion in downtown LA. He's still surprised local police never tagged him as suspicious. Check out the audio to hear their awesome chemistry.
For audio, listen at http://youtu.be/hlKyi7w5C2E.
Clearly from the top down from the producer to the director to the cast members, this show featured awesomeness at every level. Check out http://www.bigassspider.com/ for watching 'Big Ass Spider' at a theatre near you.