Interview: Writer and Director of 'Butter' Talk Comedy, Carving And Cholesterol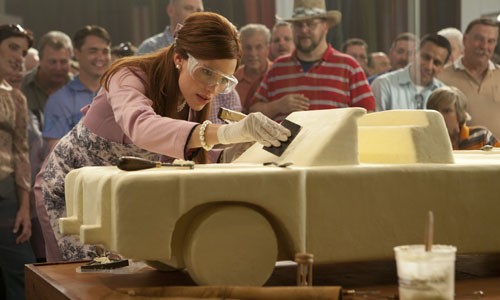 When one thinks of butter what immediately comes to mind?  Perhaps art, carving and comedy?  Well, the makers of the new indie film "Butter" (out on DVD/Blu-ray Dec. 4 from Anchor Bay Home Entertainment/Radius-TWC) are hoping it's all of the above in the form of their wildly funny and touching new film.  It centers in and around the skilled contest of butter carving and has an amazing cast that includes Jennifer Garner, Rob Corddry, Alicia Silverstone, Hugh Jackman, Olivia Wilde (in her best role to date!) and many more.  We're celebrating the home release of the film with some candid one-on-one chat via the writer Jason Micallef and director Jim Field Smith behind "Butter" who talk about inspirations, their high profile cast and some secrets behind those amazing yellow sculptures in the film.  Read on before they melt – here's...      
DIRECTOR JIM FIELD SMITH & WRITER JASON MICALLEF
I read that the script for "Butter" was on the Blacklist of Hollywood's most popular unproduced screenplays – how long was it on and what was different this time around that it got made?
Jason Micallef (Writer, "Butter"): I think what happened was I had won a fellowship from the Academy Awards and then soon after I was on the Blacklist and I think the movie had already been rolling at that point.  We had Jennifer interested and it is really helpful because it solidifies opinions.
What was it about the ailing script for "Butter" that made you want to make the film, Jim?
Jim Smith (Director, "Butter"): It was just odd and weird and different than anything else I was reading at the time.  It had this wonderful balancing act of tone, smart but also having real heart and drama.  I read it thinking it's gonna be hard to get this movie made and I guess that's part of what attracted me to it.  It was tough because it was so different and original.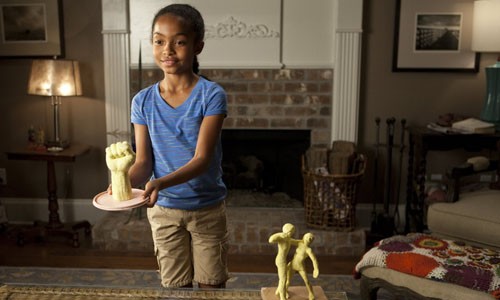 Jason, what was the inspiration behind the script for "Butter" and have you ever carved the stuff yourself?
JM: I was interested in doing a competition comedy with a little bit of political satire in it.  I had gone on a road trip after college to a state fair and it was super hot and the hall where they had the butter sculptures was air conditioned and I always remembered that.  Those butter sculptures when you walk in at first you giggle, but then when you get closer you're like these people are really good.  Right before we started shooting they brought in the top butter sculptor in the country Jim Victor and he showed us how to do it and we were all uniformly terrible at it – it's really hard.  I was really bad...but I think Ty Burrell was the worst! (Laughs)
The sculptures in the film were amazing – who did them and were they actually made out of butter?
JS: The sculptures were created by an incredibly talented team in LA led by Fred Arbegast and he worked with our Production Designer Tony Fanning and me.  The initial sculptures were created out of foam, a kind of sculpting foam that they use, so we were able to develop the sculptures and make changes.  And once we were happy we coated them with this yellow wax that was the closest thing that looked like butter on camera.
Jason, were you at all surprised by the gaggle of big names that got attached to the film?
JM: I was – as a writer that's the true test of your work.  At a certain point you hand it off to the director, but when you're getting this cast they're coming on because of the script and that's really heartening.  It really means a lot to me.
Can we get thoughts on some of your eclectic cast, Jim?
JS: Sure.
Jennifer Garner?
JS: Jennifer was involved in this process way before I was.  She had read the script and really identified it as something she wanted to do and as a result of which she decided to produce the movie as well.  She was one of the very first people I met on this project and it was great to have someone on board that early.
Ty Burrell?
JS: We were trying to figure out who to play Bob and wanted someone who could carry this character who stops talking halfway through the movie.  So we wanted someone who could really find a way to be that character and my casting director said, 'What about Ty Burrell?'  And everything clicked into place – I just thought I have to do everything in my power to get Ty to do this movie.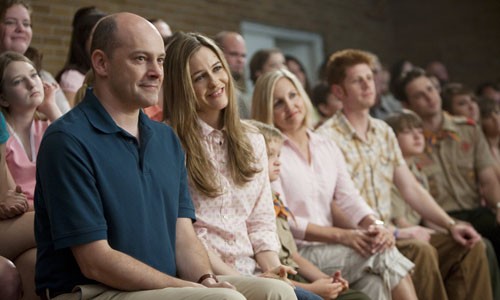 Rob Corddry?
JS: Corddry is someone who had trying to work with for a while.  His role is kind of a dramatic role really - on the page it wasn't such a comedic role as it was a dramatic role.  I was really keen to find a comedic actor to play that part just because I wanted someone who could create this chemistry with Yara who played Destiny.  We wanted someone who could find the humor in it without turning it into a comedic part.  Everyone knows Corddry as playing comedy assholes, but actually there's a dramatic actor who is in there as well.
Alicia Silverstone?
JS: Alicia basically is the part that she plays in the movie.  I know she won't mind me saying that because when I met Alicia she pretty much said the same to me.  She's this proactive vegan and animal rights campaigner and at the time was really desperate to be a mom.  So really that was a bit of a no brainer.
Ashley Greene?
JS: What's great about Ashley is she brought this real spark of sexuality curiosity going on and when Olivia Wilde's Brooke comes along this whole world opens up.  Ashley was really great at creating that wide-eyed wonderment.
Hugh Jackman?
JS: That was fun.  He came on board quite late in the process.  He read the script and it was a tight shoot, but we got everything done in a couple of days for him.  He's an incredibly funny and I feel a little bit of a kindred spirit because I'm British and he's Australian, so he was my one non-American person on the set.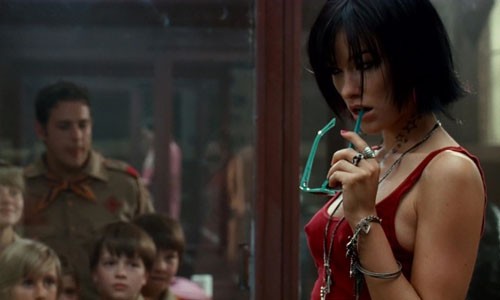 And last but most certainly not least the sexy and scene stealing Olivia Wilde?
JS: She's something else!  Jason had written this character that tore up the page and I was trying to think of someone who could explode off the page.  Finding an actress who could have as much fun as Olivia did with the part and hold their own amongst this big comedic cast, she just threw herself into it.  With Olivia she would say anything that I would give her and she would say it four hundred times better than I ever would.  She's like a hand grenade that gets tossed into the movie – let it roll around and watch how it explodes.
JM: She's the best and totally who would have thought?  Obviously, no one's gonna cry Olivia a river for being so beautiful, but an actress like her doesn't get many opportunities to be funny.  And she's hysterical in it. The character was that on the page, but it was the way she committed to it.
"BUTTER" HITS DVD/BLU-RAY DEC. 4 FROM ANCHOR BAY ENTERTAINMENT AND RADIUS-TWC.