Interview With Director Behind 'Back To The Future' Documentary Kickstarter Project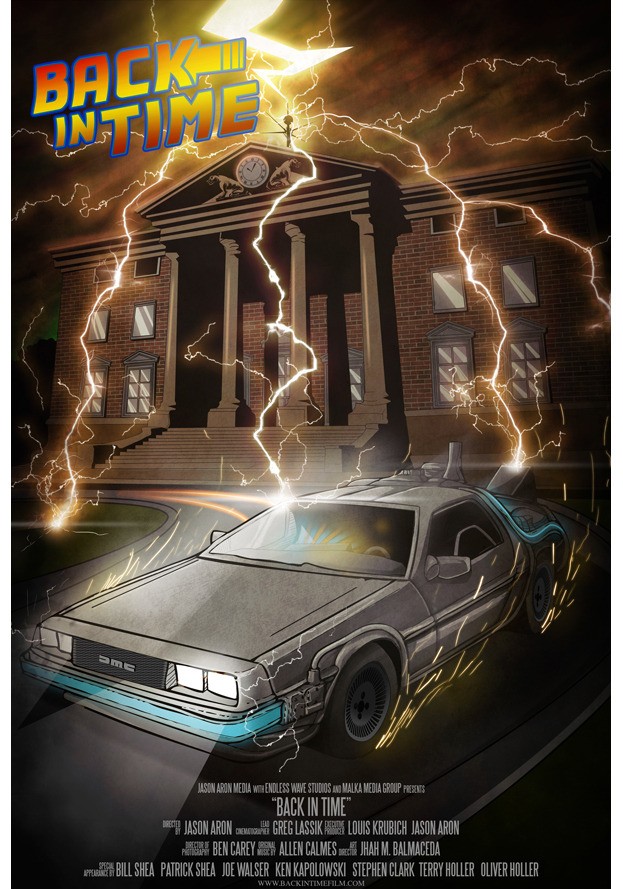 Back to the Future is one of those rare films that becomes even more beloved every year that goes by. As it inches towards its 30th anniversary in 2015, there's now a documentary looking to chronicle its cultural impact and the community that has started around the film.
Back in Time, that documentary, is about halfway to their goal of $33,000+ on Kickstarter with 29 days to go. I recently spoke with the director, Jason Aron, over email to learn about what the film means to him, what we can expect in the documentary and more.
Here's what we discussed:
What is the Back in Time film all about?
On a basic level it is about the Back to the Future trilogy but we want to look at it in a way no one has done before and that's through the time machine itself.
What that means is go to the people that own time machine replicas, or actual movie cars, find out their stories, see what these people are all about. We have a long list of people to interview from designers of the time machine down to people who travel the world in a Delorean raising money for the Michael J Fox Foundation and we want to tell these stories in the hopes of understanding what has perpetuated this film for the last 30 or so years.
Why turn to Kickstarter?
We thought it was very important from the beginning to have the fans involved in this process. We want people to know what we're doing, to follow along on the journey so there's a real build up to the premier of the film which will be at the official 30th anniversary celebration of Back to the Future in 2015.
This film will be for the fans and by the fans.
Secondly, we thought by the fans telling the BTTF community that there's an interest in this film it would help us get some bigger names on board.
Tell me about the first time you ever saw the film. How many times have you seen it?
I can't remember the first time and I know I am too young to have seen it in the theaters. But my first real memory is memorizing the first movie and in the third grade going to a friend's house and recording the movie on a tape recorder line by line as we had both memorized the film.
Wish I still had that tape… to date, it would be safe to say I've seen each film 75-100 times if not more.
What is it about the making of this film and the community that grew out of it that makes it a great one to cover in a documentary?
For anyone that has had any involvement in this community it is obvious—the generosity and openness of everyone is astounding. The Shea's who are featured in our Kickstarter trailer opened their home to us in unimaginable ways. And everyone else we've dealt with since has been the same way. Everyone has been so helpful in trying to get this film made. I think when people hear and see the stories of the people we interview in this film they will understand why this community is strong and why these films have lasted in our culture for so long.
Why do you think Back to the Future remains such a beloved film?
The plot is incredible. The cross sections of sci-fi, action, adventure, a little bit of romance is incredibly well done. I think there also this element in the films that for me always had me thinking, "Hmm, if I could just get my hands on a time machine…"
I think that creates a strong theme of hope for the future and overall the films are plain old fun.
Who are some of the folks we can expect to see in the documentary?
As of right now we have the confirmed list on our Kickstarter page which includes Bill & Patrick Shea who are in the trailer. Stephen Clark, Joe Walser, Ken Kapalowski, Terry & Oliver Holler—all major players in the BTTF community with unique stories and angles.
We then have a list of about 15 people - everyone from Bob Gale himself, to some of the original builders and designers of the Time Machine to MAJOR celebrity owners of time machines, that we're working our way through right now.
As more confirmations come in, we'll update Kickstarter and our website.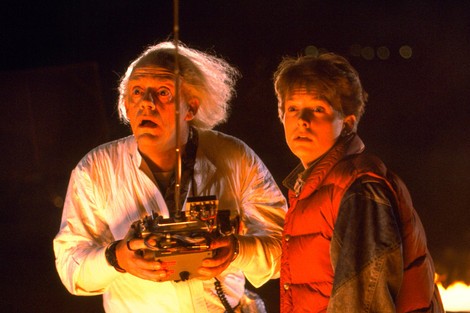 Have you started approaching any of the cast members?
We know who we want. The great thing about the community is the people who have already signed on to be in the documentary have many personal connections to the actors so as we progress through the funding process we'll start reaching out. I can safely guarantee that when we reach our funding goal you will be seeing cast members from the trilogy in our documentary.
We know everyone would probably like to see Christopher Lloyd and Michael J Fox and we have no guarantees on those two, but we'll work our network and see what we can do.
Let's say you don't reach your Kickstarter—will we still see this film?
That is one of those hard questions we have been tackling. One of our major costs is travel. We have a lot of people we want to talk to and they're all over the place. Without money it will be very hard to produce this film.
With that said, we already have an incredible landing place to release the film and a very motivated team to produce it. So we have some plan B's just in case, but it's definitely in our best interest to get the Kickstarter funding as planned.
Admit it: have you ever fallen for the fake memes of "Today is the Day in Back to the Future."
The first time I saw one something didn't seem right. I've always known it was 30 years forward, 30 years back. So without thinking too hard, I probably got nailed the first time but since then I'm all over it.
Anything else you'd like to share?
We need the community's help. It's that simple.
Kickstarter is an all or nothing platform so we've had a great start with over 300 backers and we're more than 40% of the way to our goal but with about a month left, every dollar counts and we look forward to make an amazing film for the fans of the trilogy.
To learn more, you can visit the Kickstarter page or BackinTimeFilm.com.