Interview With 'American Idol' Winner David Cook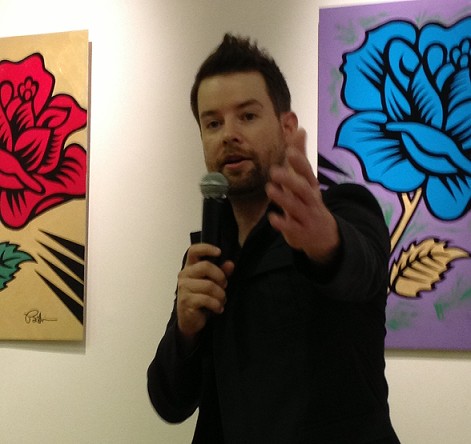 After being crowned American Idol on the seventh season of the hit reality singing competition "American Idol" in 2008, David Cook has gone on to release two albums (David Cook and This Loud Morning), sold 1.5 million copies of his debut album, #1 hits on the Billboard charts and had some of his singles certified Gold and Platinum to date.
The 29 year old singer-songwriter has not only accomplished a great deal in his career, but he has done a lot for charity as well. His brother, Adam Cook, passed away in 2009 after a decade-long battle with brain cancer. As such, David has decided to do the best he can to prevent more people from going through what his brother had to go through, and hence he has done a lot of charity work for cancer research organizations such as the Accelerated Brain Cancer Cure. This year will be his 5th year of involvement in the ABCC. He has raised over 3 million dollars for brain tumor research and funding. He also performed for soldiers in both Kuwait and Iraq during the United Service Organizations Tour (USO Tour).
Ft. Worth Telegram praised the Texas-born singer, saying that David has a "melodic gift for penning ballads that feel poignant without becoming maudlin." Billboard Magazine also said that melodically speaking, "there is no question this David Cook bullet is heading right for the brain."
Starpulse had the opportunity to attend David's press conference in Singapore, where he will perform a free concert at ION Orchard to celebrate ION Orchard's 3rd anniversary. We also had the chance to sit down and have a chat with him about "American Idol", his music as well as his plans for the future.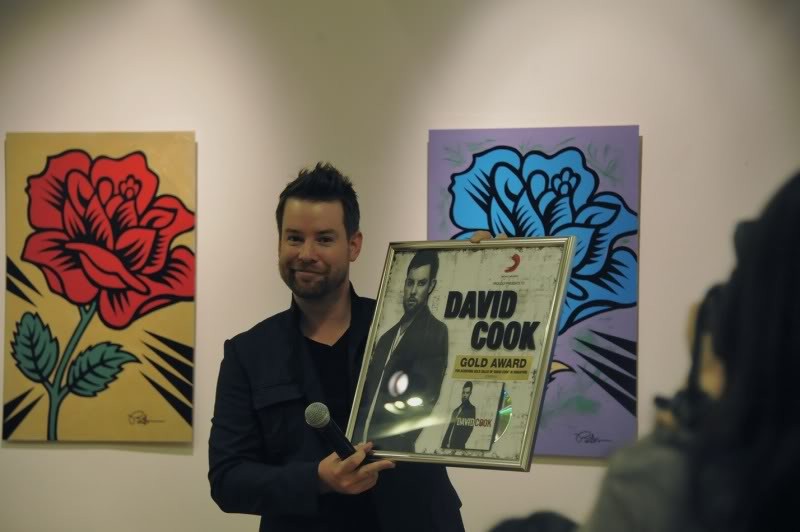 When asked what he was working on at the moment, David stated that he was writing songs for his new record as well as for other artists. He is also booking shows in the United States for 2013. He recently relocated to Nashville, TN, to get his creative juices flowing and to get new ideas to aid his songwriting process. He said that his relocation to Nashville has brought new stimuli into songwriting, and he was going in a music direction slightly different from the style of his past two albums, allowing his sound and style to change a little.
Believe it or not, even songwriting geniuses like David get writer's block sometimes. When asked about what he does whenever he gets stumped while writing, David replied, "Uh… Anything but writing. I usually write about fifteen songs in a month or two, and when I get writer's block, I'll just go out and experience new things to intensify the creative process."
David described his songs as a "personal diary", where he writes about anything that comes to his mind, such as his emotions, significant events in his lives, ex-girlfriends, photos on the internet and even newspaper articles! "I'll just look at a picture and go all, there's a song in here somewhere!" David explained.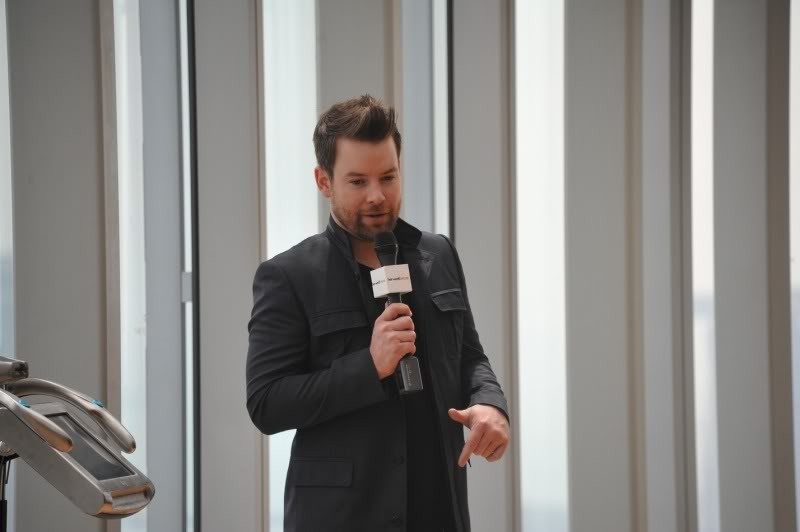 A reporter asked David, "If given a chance to judge a singing competition similar to "American Idol", would you take up the opportunity?" David's reply? "Maybe." He went on to explain that there were seasons on Idol where the most of the attention was focused on the contestants, and then there were the seasons where most of the attention was focused on the judges. He believed that the contestants on the show tend to be more successful when more attention was focused on them, and he would probably take up the chance if that was the case.
David also talked about his pre-Idol album Analog Heart. He described it as a special album and said that it was an experiment, and that he had not recorded the songs on Analog Heart with the intent of it being an album. When asked about whether or not he was closed off to the idea of performing songs from Analog Heart, David said that while he was not closed off to the idea, he was more focused on performing new music when on stage, and could not really afford much time for songs from this album.
On the next page is a transcript of the interview we had with David, which includes places he'd love to visit, advice he'd give to his younger self, his job as a musician and many more!