Interview: 'White Collar's' Tiffani Thiessen is no Trophy Wife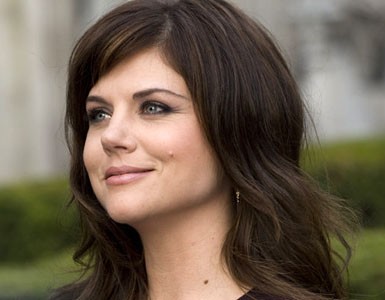 There's that old saying that behind every man is a good woman. Well, behind dedicated FBI agent Peter Burke is his loyal, smart and successful wife, Elizabeth. The woman behind Mrs. Burke, actress Tiffani Thiessen, sat down with me before tonight's new episode of White Collar to talk about the perks and positives of playing one of the show's versatile and vibrant supporting characters.
I have to say, I've looked forward to talking to you because I've enjoyed your character so much. She is so well-developed and so not what one would expect in her role.
In the twentysome-odd years I've been doing this, I feel most like my character this time. I inspire to be Elizabeth Burke every day. I love that she really is a very career driven woman, I love that she puts her relationship and her marriage first. I love the relationship that she does have with her husband where there's a lot of love between the two of them, there's a lot of trust, but there's also a great friendship between the two of them. A lot of those aspects, I definitely feel like I have in my own life.
I'm glad that you mentioned it because the thing I'm most thankful for, I think, is that Peter and Elizabeth have a normal, healthy marriage, which is so very rare on television. Most TV marriages are either falling apart or shows avoid the subject a lot of the time.
That's exactly what I say all the time. It's one of the first scripts that I've read in a really long time, when I read the pilot, that it was actually a marriage that works on TV, because most of the time marriages on TV are filled with drama and affairs and distrusting each other and it's all the opposite with the Burkes, which is what I really, really enjoy about the relationship.
She's not just a supportive partner, though; she's really a major part of his life and of the overall story of the show as well.
She's been around her husband's business their whole entire relationship and from the very beginning, from the pilot, you saw that he would bring home his work a lot and actually bounce ideas off of her. She was very, very involved with a lot of his cases and knew very much about Neal being that he was a character in both their lives for a very long time.I think it did come naturally. I think she's around it constantly with him. And that's kind of where I take it from.
What's it like for you on a daily basis, building that relationship with Tim DeKay?
I'll tell you he is such an amazing man. I fell in love with him the moment I met him. I was always such a big fan of his work, watched a lot of his shows in the past and so when we had our first chemistry read, we hit it off. And, funny enough, it's like he and my real husband have a lot of similar qualities, so it actually kind of just fits and it was a really great relationship that took off from day one.
We've heard in previous interviews that White Collar has a really collaborative environment. Have you worked with the writers on your character?
We have a great relationship with our writers and our producers and creators, and they always welcome our ideas, which is actually really nice because not every show is like that. And there's been a few little inputs that I have [had]; at the very beginning they had Elizabeth have a different career. At the time, I think, when the pilot was written, she was an accountant and they ended up scratching that during the pilot, and that's why in the pilot you really don't know what she does for a living, because they couldn't figure it out.
When the show got picked up I sat down with Jeff Eastin, and we kind of went around some ideas of what possibly could be her job and her career, and I've always thought that if I wasn't an actor I always wanted to be an event planner, an event coordinator. I've always dreamed about doing that if I stopped the whole acting craze. I always thought that it would be such a fun kind of thing to do. So, that's where that idea came from. I told him and he was like "I love it," so that's actually, it was definitely a big input of mine.
What's it been like coming back to the series after your maternity leave? You even got to be part of the con in the midseason opener, which I'm sure was fun.

It was actually really fun and you actually get to see even more of that towards the end of this season. I was a little absent the first half of the second season because, of course, I was pregnant and I had my daughter at the time. But I always love to get into the mix with the guys. I mean, how much fun is it to work with Tim on his actual business/career side of things and with Matt, he's adorable. Towards the end of this season, I think it's either the second to the last episode or the last episode, we actually do pretty much the whole entire episode together, which is actually a really great episode. And then Willie, you know, they've actually started doing more and more scenes with Willie, which has been really quite fun. We all have really great chemistry. It's a rarity I believe that all of us really have such great chemistry and we actually really enjoy each other, which makes work so much nicer.
My thanks to Tiffani Thiessen for this interview. Don't miss an all-new episode of White Collar tonight at 10 PM ET/PT on USA!